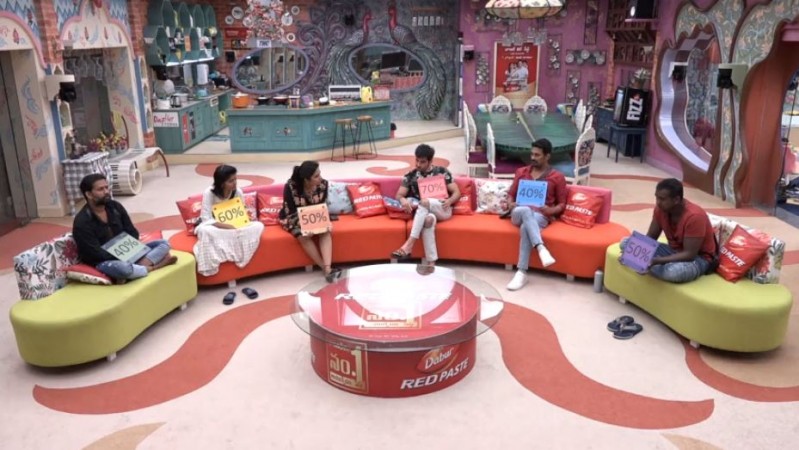 Rahul Sipligunj has won the ticket to the finale, while Ali Reza, Varun Sandesh, Sreemukhi, Siva Jyothi and Baba Bhaskar were nominated for elimination from Bigg Boss Telugu 3 this week.
Bigg Boss Telugu 3 has completed 92 days and is just two weeks away from its grand finale. After Vithika Sheru's elimination, six contestants remain in the house. One of them will be evicted from the house this week, while the remaining five housemates enter the finalist list of this season.
When the viewers were curious about this week's nomination task. Bigg Boss came up with a brand new task as per which the contestants had to compete in a series of challenges to get the ticket to finale. The contestants were asked to pick blocks of different colours and see the scores mentioned behind them. These scores would be the percentages of their batteries.
Ali and Siva Jyothi scored 70 and 60 percentage of batteries, respectively. Sreemukhi and Rahul got 50 percentage of batteries each and Varun and Baba Bhaskar scored 40 percentage of batteries each. Bigg Boss slashed the percentile of each contestant by 10 percent. Each contestant gets six chances to refill their battery throughout the series of tasks.
In the first level, two contestants get to compete in a task. Three winners of the task will get a chance to refill their batteries. Ali, Rahul and Baba Bhaskar won this level and refilled 10 percentage of their batteries. Siva Jyothi, Varun Sandesh and Sreemukhi lost 10 percentage of their batteries, as they were defeated by their opponents.
Ali Reza and Baba Bhaskar had a face-off in the second level. Bigg Boss cancels the second task due to the violence and announces that Ali is out of the race to the finale for getting physical in the task. Rahul and Sreemukhi win the third and fourth tasks, respectively.
Later, Bigg Boss ends the nomination task and announces that Rahul is not only saved from nomination but also won the ticket to the finale. He declares that Ali Reza, Varun Sandesh, Sreemukhi, Siva Jyothi and Baba Bhaskar are nominated for elimination from Bigg Boss Telugu 3 this week.
Viewers can save their favorites by voting for them through phone calls or Hotstar App. Here are the steps to save them.
Missed call from Phone
Step 1: Find your favorite contestant's missed call number form the below table.
Step 2: Dial it.
Step 3: Give a missed call to that number.
Step 4: Your vote is submitted.
Note: Only 10 missed calls can be given from one phone number in a week.
Here are the Missed Call Numbers of Bigg Boss Telugu 3 contestants:
| | | |
| --- | --- | --- |
| No | Contestant | Phone no |
| 1 | Shiva Jyothi | 8466 996 701 |
| 2 | Baba Bhaskar | 8466 996 708 |
| 3 | Ali Reza | 8466 996 711 |
| 4 | Sreemukhi | 8466 996 713 |
| 5 | Varun Sandesh | 8466 996 714 |
Voting on Hotstar App
1 – Download the Hotstar app from Playstore and install it on your smartphone.
2 – Login to the page through your e-mail or Facebook account.
3 – Type Bigg Boss Telugu in the Search bar and press Enter.
4 – Click on the green 'Vote' button below the video
5 - Find the names of the contestants who are facing the elimination test this week.
6 - You will get 10 votes per day till Saturday midnight. You can either cast those votes to one person or divide it among the nominated contestants.
7 – One click on any contestant is considered one vote and you have to click ten times to cast 10 votes. Once you click on any contestant, you cannot take back the vote. You need to decide on who you want to vote for before clicking on anyone.