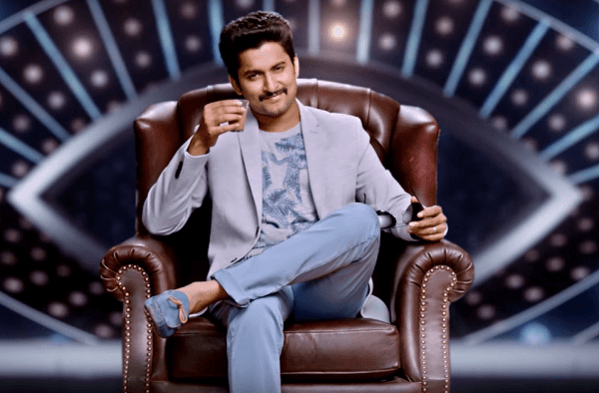 The makers of Bigg Boss Telugu 2 have officially announced that Natural Star Nani will make his small screen debut, replacing young tiger Jr NTR as a host for the hit reality TV show.
Bigg Boss Telugu was one of the highest viewed Telugu TV shows of 2017 and Star Maa is now coming up with the second season. We had recently reported that Jr NTR would not host the second season of Bigg Boss Telugu as he is busy with two big-ticket projects, being directed by Trivikam Srinivas and SS Rajamouli respectively.
Therefore, the makers have zeroed in on actor Nani for the second season.
The promo was released on Twitter on May 21. It introduces the actor in a unique way. In the video, he says this season will have little more masala that the first one.
In a statement to media, Alok Jain, Business Head of Star Maa Network said, "We are extremely thankful to our viewers for stupendous response to Bigg Boss Telugu and all our subsequent new shows. We are excited to announce Nani as the host for Bigg Boss Telugu 2. With his ability to connect with audiences across all age segments, we look forward to this season being more exciting."
Actor Nani is all thrilled to host Bigg Boss Telugu 2. He said, "Television is one of the most powerful mediums of entertainment and to come on it with a magnum opus like Bigg Boss is thrilling. I started my journey as a common man and have always experimented with distinct roles to entertain people. Looking forward to host Bigg Boss Telugu 2."
Bigg Boss Telugu is unique with no script and the traditional word "cut". This season is going to be longer with more than 100 days compared to 70 days the last season. About 16 housemates will be locked inside a house cut off from the outside world, under the watchful gaze of 70 cameras and millions of viewers will see housemates forge new relationships and maybe lose a few inside the house.
The bosses of Bigg Boss Telugu 2 have launched a call for entry for common people. Ever since, the show has been generating a lot of buzz, curiosity and expectations. Like the promo says this season promises to be a lot more masala and excitement … Yedeina Jaragachu (Anything can Happen).