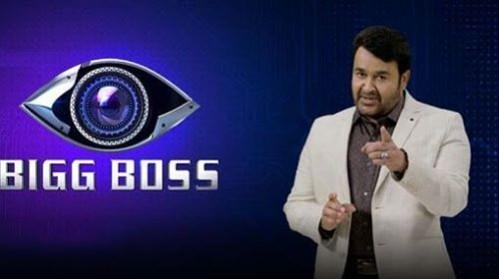 Hima Shankar has been eliminated from superstar Mohanlal-hosted reality TV show Bigg Boss Malayalam on Sunday. Diya Sana started crying, as she walked out of the house.
10.07 pm: Hima replies, "I am a person who always try to behave in the way I am. I was myself in the past, and will continue to be myself in the future too." After some philosophical talks, Mohanlal says good night to all viewers

10.05 pm: Mohanlal now asks audiences to see the recap of Hima's performance in the past three weeks. Mohanlal aks Hima, ''You entered the house with charm and happiness, and now you are coming out of the house with the same feel. How do you feel now."

9.59 pm: Diya Sana melodramatically started crying as Hima exits the house. All the contestants now trying to console Hima and Diya while all their efforts go in vain. Hima informs Suresh that she will see him once he comes out of the house. Hima gives hugs to all contestants, and she now exits with a bit smile on her face .
9.55 pm: And now, the billion dollar answer. Mohanlal revealed that Hima Shankar is out of the house, and Sreelakshmi is in... Mohanlal asked Hima to get out to the studio. Hima Shankar said that she is fighting a war with the truth, and made it clear that she is a person who is genuine to the core.
9.55 pm: Mohanlal is back with Bigg Boss theme song. He once again told that there are big games to play in this house. Hima and Sreelakshmi revealed that both of them have packed their bags to get out of the house.
9.52 pm: Sreelakshmi said, "I have been too innocent for these three weeks. Now, I am ready for the big game. If these contestants and the audiences want me to go, then I am ready." Mohanlal told the contestants that he needs some more time so that he can discuss with Bigg Boss to finalize the person who will be eliminated.
9.50 pm: Sreelakshmi replies that nobody has considered her as a family member in these three weeks span. She added that only one or two members in the house have considered her as a friend. She made it clear that nobody can understand a person within this three week period. She told Mohanlal that a lobby is trying to doormat her. As per Sreelakshmi, all the fourteen members in the house has tried to make her inferior. Sreelakshmi adamantly said that she was a person who had worked and earned from seventeen years.
9.44 pm: Mohanlal informed the contestants that there are no small games to play now, but only big ones, and he now takes a break. Mohanlal now asks Sreelakshmi whether she is the one who should be eliminated
9.42 pm: Pearle Maaney surprisingly informed Mohanlal that Sreelakshmi should be eliminated. She said that Hima is a pleasing person, and she should stay in the house.
9.40 pm: Mohanlal now turns on to Sabu. The Tharikida anchor says that both of them should be eliminated at any cost. As per Sabu, Hima is a fake personality. He added that Sreelakshmi is creating difficulties to many members in the house. Deepan reveals that Hima should not be eliminated, as she is a strong contestant
9.38 pm: Mohanlal now asks Adithi...Adithi reveals that she loves both Hima and Sreelakshmi. Adithi now starts crying, and says that both these contestants always try to make her happy
9.36 pm: When Mohanlal asked Aristo Suresh, the 'Action Hero Biju' actor revealed that Hima should be eliminated...Mohanlal, after hearing Suresh's words said that it is the audience who will decide the fate of the contestants in the house
9.35 pm: Swetha Menon too supported Ranjini's views, and made it clear that Hima is the one who should be eliminated. She even remarked that Hima is a real threat to the house's wellbeing.
9.33 pm: The two contestants remaining are Sreelakshmi and Hima Shankar. Mohanlal asked Hima and Sreelakshmi to select the person who may get eliminated from the house
9.32 pm: After a brief casual talk, Mohanlal informs the house that Anoop Chandran is safe....He asked Anoop how he feels after being into the safe zone...Anoop Chandran replied that he feels so happy now, and made it clear that he always tried to behave naturally in the house
9.31 pm: Hima Shankar says that she has never acted in the Bigg Boss House. Anoop Chandran alleged that Hima always acts over the board to impress the audiences
9.30 pm: Anoop, Hima, Sreelekshmi, Saabu have been elected by the audience for elimination. Mohanlal asks them for the reason why they have selected these contestants.
9.18 pm: Ranjini Haridas becomes the captain now
9.05 pm: Superstar Mohanlal enters the stage
The much anticipated July 15 episode of Malayalam Bigg Boss will decide who will go out of the house today, Sunday, July 15. Mohanlal, the host of the show on Saturday revealed that big games are being played inside the Bigg Boss house and audiences are the fate deciders of the contestants.
Four nominees are there in the Bigg Boss house which includes, Sabumon Abdusamad, Anoop Chandran, Hima Shankar and Sreelakshmi. Social media reactions on Asianet official page indicates that Hima Shankar is the most likely contestant who may be eliminated from the house. Most of the viewers of the Bigg Boss argue that Hima Shankar is a person who likes to act in reel and real life, and they believe that she is the person who deserves to be eliminated.
However, Anoop Chandran's last week's tiff with Swetha Menon may also pull him into the trouble zone. It should be also noted that Anoop Chandran was the contestant who received very less support during previous elimination. But due to unknown reasons, Bigg Boss spared Anoop, and made it clear that he can stay in the house.
Sreelakshmi, on the other hand, has always tried to be active inside the house. But, many contestants have complained that she is a person who is very fond of gossiping. In the episode on Friday, she was seen arguing with Aristo Suresh for unknown reasons, and it may trouble her during the elimination process. However, many people strongly believe that she may stay in the house due to her active participation in various tasks.
The man who is expected to be safe in this round of elimination is none other than Sabumon Abdusamad. The 'Tharikida' anchor performed exceptionally well last week, especially during the investigation process. When Swetha Menon was murdered by Ranjini Haridas, Sabumon singlehandedly spotted the convict, and Bigg Boss had given him the name 'CID Sabu' for his efforts.
All the speculations will end at 09.30 PM today, as Mohanlal will announce the name of the contestant who will go out of the house. Let's fasten our seatbelts to know who will become the loser in today's episode.