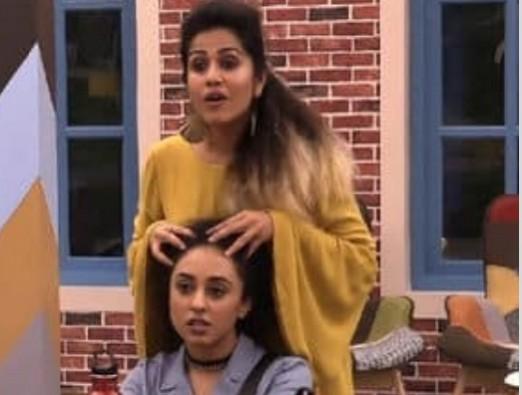 In the initial moments of Bigg Boss Malayalam July 18 episode, contestants were seen discussing the fight which happened between Ranjini Haridas and Pearle Maaney. Ranjini Haridas informed Sabumon that Pearle's remarks especially the ''useless captain'' irked her to the core, and it has compelled her to shout at the 'Nayika Nayakan' anchor. Sabumon replied that Pearle is making use of these fights to gain sympathy from the audience.
Later, Sabumon Abdusamad informed Deepan that Pearle Maaney is a two-faceted person who does not know how to take things in a positive spirit. Tharikida Sabu told Anoop Chandran that he threw the slippers on Pearle to elevate the fun quotient, but she took that into the heart.
In the meantime, Aristo Suresh informed Sabumon that he will try to resolve the issue. Suresh asked Pearle to say sorry to Sabumon, but she refused to do so. Sabu and Pearle continued to argue during the discussion, and at one point in time, Pearle was seen repeatedly saying 'I am Pearle Maaney'. Irked to the core, Sabumon replied that 'I am Abdusamad's son Sabumon Abdusamad'.
After some time, house captain Ranjini Haridas called up Basheer, Pearle and Sreelakshmi, and asked about their problems with Shiyas. Soon, Shiyas apologized for his acts.
The meeting was again conducted, and the major point of discussion was the issues between Sabumon and Pearle. After heated arguments, Sabumon finally apologized to Pearle for throwing slippers at her.
Soon, Bigg Boss announced the fourth luxury task of the week. Bigg Boss selected Anoop Chandran as the moderator of the task, and later, Srinish and Basheer Bashi were selected as the contestants. The task assigned was to move a cart loaded with sacks. Basheer and Srinish somehow completed the task partially, and they earned 200 valuable points.
Shiyas and Swetha Menon played the next luxury task, and they succeeded in earning 375 points. Aditi played the next task and completed it successfully.
Later, Ranjini Haridas and Pearle Maaney talked to each other and sorted out the issues they had during the previous episode.