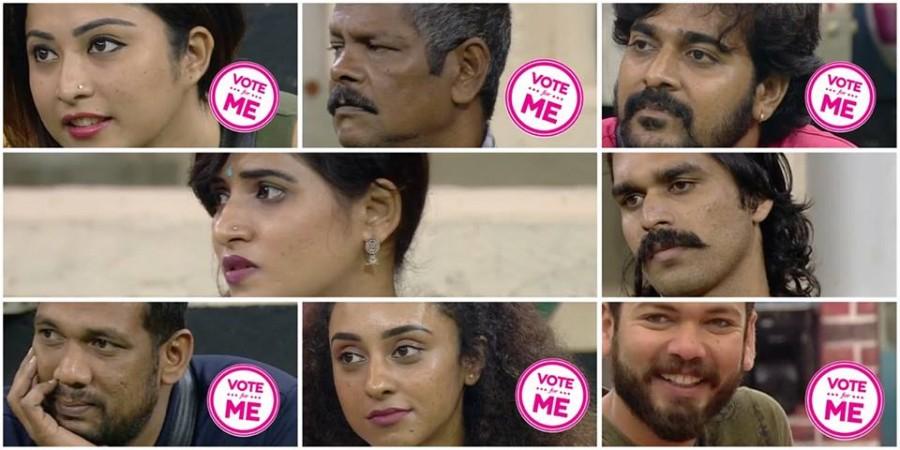 10.27 pm: Bigg Boss announces Basheer's elimination from the house. Bigg Boss adds that Srinish is safe in this week's elimination. Srinish and Pearle start hugging each other. Bigg Boss asks Basheer to give his plants to a friend whom he trusts. Basheer gives the plant to Srinish.
10.25 pm: Mohanlal asks Srinish and Basheer to go to the garden area again. The elimination continues. Pearle starts crying fearing that Srinish is out of the house.
10.17 pm: Bigg Boss continues the elimination process. Srinish, Basheer and Pearle Maaney eagerly waiting to know who is safe. Bigg Boss now announces that Pearle is safe in this week's elimination. Suresh sings a song upon Mohanlal's request.
10.11 pm: Suresh says that he has never asked anyone to save her during the time of nomination. Suresh also alleges that Pearle and Srinish are spending a lot of time in the night when others are trying to entertain each other. Pearle says that the Bigg Boss house is like a Five Star jail.
10.05 pm: During the task, Sabu and Shiyas manhandle each other. Archana's team succeeds in sticking four balloons on the board, while Aditi's team manages to stick only two.
9.55 pm: Contestants now taking part in the balloon bursting task. Shiyas with his funny mannerisms makes the task interesting.
09.44 pm: Bigg Boss informs Sabumon that he is safe in this week's eviction.
09.44 pm: Mohanlal now asks whether Aditi is happy about her performance as the captain. Aditi says Yes, while Sabumon says that Aditi was a failure as the captain. Aditi told Mohanlal that she is such a person who likes to live without quarrelling with others. Mohanlal now asks the nominees to go to the garden area again.
09.37: Basheer Bashi supported Sabumon's views, and made it clear that he never expected Aditi nominating Suresh.
09.27: When Sabumon criticized Aditi Rai, Shiyas supported her. Shiyas added that some people are trying to corner Aditi. As Mohanlal leaves the floor for a while, Sabumon lashes out at Aditi and Suresh.
09.23: Mohanlal asks contestants to go out again. Bigg Boss announces that Suresh is safe.
09.21: Sabumon argued that he could not support Aditi's move to nominate Suresh last week.
09.17: Mohanlal asked Aditi on why she nominated Suresh instead of Shiyas during the last week's elimination. She told Mohanlal that Suresh was nominated just because she was sure about his fan following outside the house.
09.15: Bigg Boss informs Archana that she has reached the safe zone. Bigg Boss later asks everyone to return to the living room. Mohanlal now asks Archana about her opinion about last week's nomination process.
09.14: Mohanlal asks the six nominees to go to the garden, and stand near their boxes which are already packed.
09.12: The Superstar now names Shiyas as the best actor inside the house. Shiyas goes to the storeroom to collect his award. Shiyas starts jumping with joy, and his fellow housemates appreciate him.
09.05: Mohanlal now shows the wall climbing attempt performed by Shiyas in last week's episode.
09.01: Mohanlal enters the house, and as usual he starts his philosophical talk. Mohanlal asks Shiyas about his dress, and he reveals that it is his fashion symbol.
As expected, Mohanlal postponed the elimination process in the Saturday episode of Bigg Boss Malayalam and revealed that the name of the evicted contestant will be announced only on Sunday.
Now, a source close to Bigg Boss Malayalam has exclusively hinted to International Business Times, India that Basheer Bashi is out of the house. It should be noted that Bigg Boss is not a live program and the elimination has already happened a couple of days ago.
The source, under the condition of anonymity, revealed that Basheer Bashi is already out of the house and has apparently started travelling to Lonawala from Kerala. However, the source refused to reveal whether multiple eliminations are taking place in today's episode.
As per latest trends, Aristo Suresh or Archana Suseelan may be the likely contestants who will be evicted if Mohanlal announces multiple eliminations.
Also read: Bigg Boss 2 funny memes here.
Interestingly, IB Times poll revealed that Basheer Bashi is the most likely contestant who will be eliminated. More than 94 percent of our readers want to see Basheer out of the house.
As per members in Facebook groups like 'Bigg Boss Malayalam fans', it is Basheer's grudge towards Pearle Maaney that opened the exit door for him. Pearle Maaney has a huge fan following on social media platforms, and Basheer's attitude towards the 'Nayika Nayakan' anchor has prevented them from voting in his favor.
In all probabilities, Pearle Maaney, Srinish, and Sabumon Abdusamad will reach the safe zone today.
We will publish Bigg Boss Malayalam live updates in this space starting at 9 PM. Stay tuned.