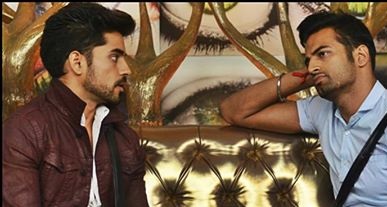 Looks like Upen Patel has made a re-entry in "Bigg Boss 8" to clear all the misunderstandings between him and Gautam Gulati.
Upen, who got evicted from "Bigg Boss 8" during the grand finale, entered the house as a challenger for "Bigg Boss Halla Bol" in a coffin.
While Dimpy Mahajan, Karishma Tanna, Gautam Gulati and other champions expressed excitement and joy, there were some who were disappointed with Upen's entry.
As soon as they opened the coffin, Upen came out and hugged Gautam tightly. And apparently, he also apologised to Gautam for his violent behaviour.
In December, Upen and Gautam had a huge fight after Diandra Soares' exit. The "36 China Town" actor even threatened to kill Gautam.
But now it looks like Upen wants to settle the differences and become good friends with the "Diya Aur Baati Hum" actor. Upen apologised and said that he saw the episode and realised that it was his mistake and not Gautam's.
Meanwhile, Upen approached the makers to give him another chance.
"It feels great to go into the house again. Now, I will try my best to win the show," Upen told The Times of India.
"I am a very emotional person. Imagine losing your friends one after the other. Everybody reaches a breaking point. When I was nice, people called me names. When I became like one of them, they said that they prefer the previous Upen. They stepped back and stopped attacking me once I showed them that side," Upen explained about his stay inside the house.