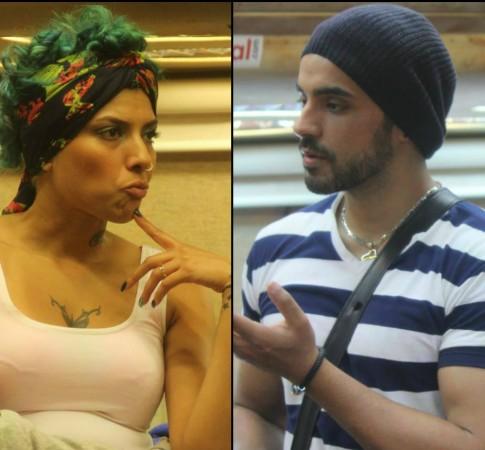 The "cry baby" of "Bigg Boss 8", Nigaar Khan who got eliminated on Sunday, said that Diandra Soares and Gautam Gulati's romantic angle is fake.
Nigaar was one of the wild card entries, who entered the "Bigg Boss 8" house a week ago. After her exit from the show, the 35-year-old model revealed details about each contestant to several media houses.
During an interview with Press Trust of India, she said that Diandra and Gautam's romance inside the house is not genuine, and they are just playing games.
Diandra and Gautam bonded well in the first week of the show, but due to some arguments the former stopped talking to the "Diya Aur Baati Hum" actor. But the two seemed to have patched up last week, when Gautam was the captain of the house.
Gautam and Diandra were seen chatting and going on a poolside date inside the house and the model even hugged Gautam and apologised for her behaviour.
However, Nigaar has revealed that Diandra is playing safe with Gautam and that is why she is being so friendly with him.
"Diandra and Gautam are just playing with each other. They did not even talk to each other properly till a few days back and suddenly one day they are sitting together and chatting," PTI quoted her as saying.
"They have taken advantage of Diandra and Upen's recent fight. Diandra is just playing safe now and so is being friendly with Gautam and he is also clearly playing her," Nigaar added.
The reunion of Diandra and Gautam not only shocked other contestants, especially the P3G group, but also Gautam's fans who are not in the favour of the new found romantic angle.
Gautam's downfall will begin if he did save Diandra. #BB8

— را سينا (@p_hilophobic) November 24, 2014
RT this if you've ever been traumatised by Gautam-Diandra's scenes on Bigg Boss. #BB8 — را سينا (@p_hilophobic) November 24, 2014
Srsly wtf y does bigg boss play romantic music for gautam & diandra like gautam acts like that with dimpy, sonali, renee aswell ffs wtf

— GG❤️❤️ (@Teamgulati) November 24, 2014
Diandra trying to flirt with Gautam is more painful to watch than humshakals by sajid khan....#bb8 — GautamLover (@TeamGGBiggBoss8) November 24, 2014
I still don't buy Diandra regarding Gautam. The change was too fast. From no communication to feeding GG. Like what just happened #BB8

— Suity Akther (@suity101) November 19, 2014