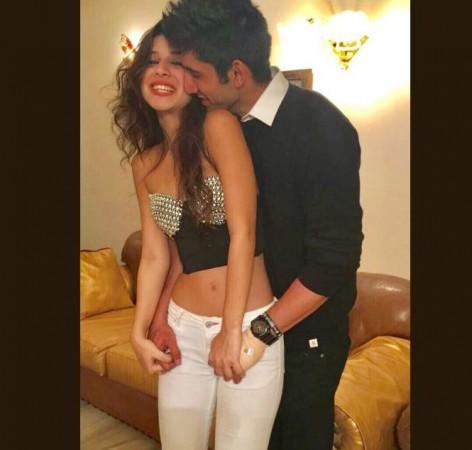 In Bigg Boss 11, Besides Puneesh Sharma and Bandgi Kalra's over-the-top PDA, the viewers also witnessed Priyank Sharma and Benafsha Soonawalla's proximity. The latter couple went a step further, sharing bed and getting cosy with each other. Priyank even confessed that he had developed feelings for Benafsha.
However, post her eviction, Benafsha has been making some shocking revelations about her relationship with Priyank. She even claimed that he was like a brother to her, which left Twitterati in splits.
Ex-Bigg Boss 11 contestant Benafsha Soonawalla now claims Varun Sood is not her boyfriend
"We're just friends. The physical stuff, him kissing me on the cheek and hugging me, were just sweet gestures. He's a warm guy. We shared the bed, for friendly emotional support and companionship. Priyank is like my brother yaar!!!" she had told SpotboyE.com.
And now, the VJ wants to go back to Bigg Boss 11 house and her rumoured boyfriend Varun Sood is in support of it.
It may be recalled that Varun had requested his fans not to vote for Benafsha last week as he felt that her image got spoilt without her realising it. He wanted her to get evicted from the show so that he could talk to her and sort out issues. Varun's request in some way affected Benafsha's number of votes, eventually leading to her ouster from the show.
But with Varun's new request to fans to stand up for Benafsha with a hashtag #bringbackbenafsha, it seems he has sorted out his issues and now wants her to return.
Also, it looks like Benafsha wants to confront her "brother" Priyank. On Tuesday (November 21), she posted an open letter against Priyank saying that how hurt she was with his behaviour and portraying a wrong image about their equation inside the house.
Meanwhile, Varun's request seems to have a sway on the Twitterati and many have started posting requests to Bigg Boss 11 makers to bring Benafsha back on the show.
@divya_nehi: She deserves a second chance to play her own game without being influenced by others @ColorsTV @BiggBoss #BringBackBenafsha

@Sushant_Sak7: Honestly saying I started hating u frm core of heart frm lst 2-3 week.... bt after this post of ur nd listening to ur interview I really felt u are a beautiful soul Srry for understanding u wrong.... I really wish for ur wildcard entry #bringbackbenafsha. @BenafshaSoona

@Harvey_U: Still don't get what @BenafshaSoona did that was so wrong for her to get so much abuse. Didnt see her spitting on anyone, abusing anyone or getting physical!! There are more vile contestants that deserve the abuse! @BiggBoss just do us a favour and #BringBackBenafsha

@Nosh4122: @BenafshaSoona and yes #bringbackbenafsha sometimes dignified people should also be considered rather than trp providers all the time

Pragz ki zainu: She deserves a second chance!! She was more deserving than sapna : @BenafshaSoona @VSood12 #bringbackbenafsha