Due to inclement weather and security reasons, the Congress leadership has decided to cancel the foot march of Rahul Gandhi's Bharat Jodo Yatra from Ramban on the Banihal stretch on the Jammu-Srinagar national highway.
Keeping in view the deplorable condition of this 36-km stretch on the highway Congress leaders have decided to cancel the foot march on this part. Rahul Gandhi and other "Yatries" of the Bharat Jodo Yatra will cover this distance in vehicles.
As per the fresh schedule issued by Congress, on its 133rd day, the Yatra will resume from Jammu-Srinagar national highway near Railway Station Banihal at 9 on Friday. After a break at Banihal Toll Plaza, the Yatra will enter Kashmir on the same day. The Yatra will reach Government Degree College Khanabal Anantnag for a night halt.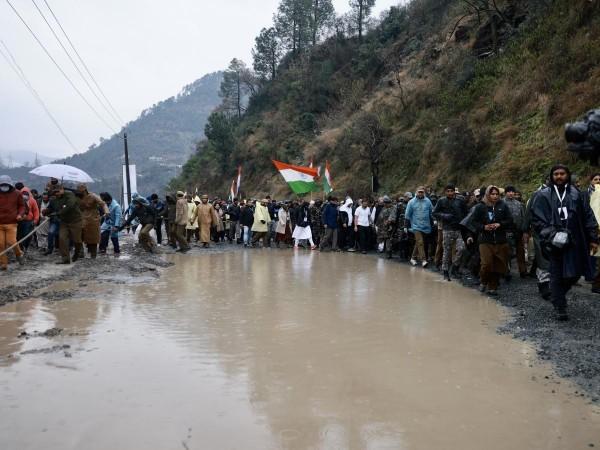 The 36-km Ramban-Banihal track on the highway is a landslide-prone stretch
Due to the sinking of patches and massive landslides after repeated intervals, this stretch of highway has become "unpredictable". The condition of the road has gone from bad to worse due to ongoing widening work. The recent rains and flash floods have further compounded the situation.
No side protection walls, strong steel grills/ steel nets, etc have been raised to the vulnerable places for the safety of the vehicles and the passengers passing through dangerous/ sliding zones in this sector.
Although authorities have allowed the movement of stranded passenger vehicles on the highway after clearing debris, a smooth flow of traffic is not possible to due inclement weather conditions.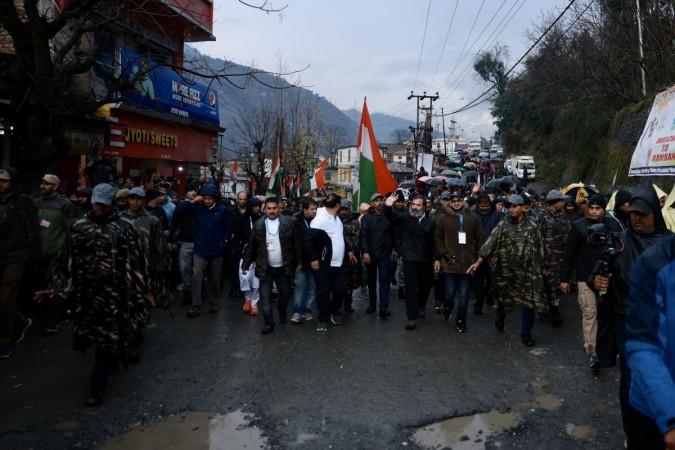 Today is a rest day for Bharat Jodo Yatra
Today is a rest day for the Yatra but the Jammu-Srinagar highway remained closed for vehicular movement due to landslides and shooting stones. After hectic efforts, authorities removed debris and allowed passenger vehicles to move. Large numbers of vehicles are still stranded on both sides of the highway.
According to Congress spokesman, today being a rest day, the Yatra will resume on January 27th.
Earlier on Wednesday, amid heavy downpours, Rahul Gandhi resumed the foot march from Chanderkote in Ramban Wednesday at around 9 am and the Yatris travelled about 4-5 km of distance up to Ramban town. But the inclement weather forced its suspension.
The Yatra started from Kanyakumari on September 7 and entered Jammu and Kashmir via Punjab on Thursday. The march will culminate with Gandhi unfurling the national flag at the party headquarters in Srinagar and addressing a grand rally at the Sher-e-Kashmir Cricket Stadium on January 30.