Reliance Jio users are on the edge of their seats as their Summer Surprise offer with three months of unlimited services is coming to an end. It's finally time to recharge – a practice that Reliance Jio users are not accustomed to – to continue their internet and voice calling services.
Reliance Jio's disruptive plans over the past few months have proven effective in bringing a massive transformation in the Indian telecom industry. The rates of 4G plans have drastically reduced and voice calls, depending on the choice of plans, have been made free. But the competition makes it difficult for users to find the best plan.
To make it easier for those hunting for a suitable data and voice plan, here's a compilation of the best tariffs from Reliance Jio, Airtel, Idea and BSNL.
Reliance Jio
If you are a Jio subscriber, it makes sense to consider the same telco for offers. Following the Jio Summer Surprise offer, which gave 1GB 4G data per day for 90 days at a favourable cost of Rs. 303, Jio launched Dhan Dhana Dhan due to legal constraints. Jio users can only avail Dhan Dhana Dhan offer once.
Luckily, Jio Summer Surprise users get a chance to activate Dhan Dhana Dhan offer to extend their 1GB 4G data per day for up to three months by paying just Rs. 309. Users can also get 2GB data per day for three months at Rs. 509.
In case you already activated Dhan Dhana Dhan offer, then you must go through different recharge packs available for them to continue services.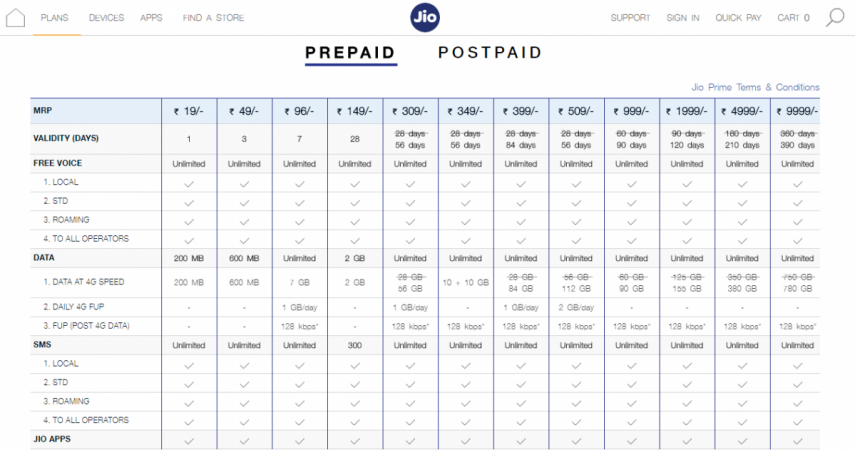 Airtel
If Reliance Jio faces a close threat, it is by Airtel – India's largest telecom operator. The telco has been introducing various 4G data and voice plans to attract new users and keep its user base intact.
Airtel has several plans for prepaid users. If the user has a 4G SIM card and a 4G handset, the offers are quite attractive. Users can check out the combo offers to get the best bundle for 4G data and calls, but here are a few plans that stand out.
Airtel's Rs. 244 plan offers unlimited calls within the network and 1GB 4G data with a validity of 28 days. There is 1GB extra data for night between 3 a.m. and 5 a.m. Other plans include Rs. 349 for 28 days with free voice calls, 1GB data along with 1GB night data; Rs. 499 for 28 days with unlimited calling and 1.5GB data per day.
There are more expensive plans for higher daily data limits starting at Rs. 549 for 2GB data per day, Rs. 648 for 2.5GB data per day, Rs. 799 for 3GB data per day, Rs. 899 for 3.5GB data per day, Rs. 999 for 4G data per day and Rs. 1,198 for 5GB data per day.
Idea Cellular
Idea Cellular has been quite competitive on the 4G data tariffs front with aggressive plans to take out its rivals. Soon after Reliance Jio started its subscription-based service, Idea launched a new plan of its own to give 1GB 4G data every day for three months and Rs. 300 a month to continue 1GB/day till March 2018. The offer was exclusively launched for postpaid users, but prepaid users got a new Rs. 447 recharge pack for 1GB data per day for 70 days.
Idea also launched affordable Rs. 297 plan for prepaid users to give 300 minutes free calls per day and 1,200 minutes per week within Idea network and the main highlight is the 1GB 4G data per day for 70 days. This plan is now available to Idea customers at a lowered price of Rs. 244.
Idea has some interesting recharge options. For Rs. 96, users can get 6GB 3G data for 28 days without any calling benefits. As a best bundle, users can go with Rs. 396 plan that offers 1GB 3G/4G data per day for 70 days along with free calling (300 minutes daily, 1,200 minutes a week). If that's expensive, try the Rs. 197 plan with unlimited calls and 1GB data for 28 days.
To match levels with Reliance Jio, Idea has a Rs. 453 recharge pack for prepaid users, which gives 1GB data per day for 84 days, but on a 3G network. Users get bundled calls (300 minutes per day and 1,200 minutes per week) for the duration of the pack.