Anjan Dutt is a household name in any urban or semi-urban Bengali house and has been so for the better part of the past two decades. Now, caller-identification app TrueCaller has paid a tribute to him in a way that has Bengalis across the board quite amused as well as somewhat honoured.
Dutt, who started off as a singer with the album Shunte Ki Chao in 1994, has since gone on to act in films and direct them as well, but he is still best known for his songs. And the one that shot him to fame had a phone number as its hook: 2441139.
It was the era of joblessness when college graduates in West Bengal faced gloomy prospects with a few jobs coming by. It was also when local landline numbers had just become seven-digit, with at least a year or two to go before they became the eight-digit numbers that we know today. Back then, cross-connections were also a reality of life.
Dutt's now iconic song combined all these elements. It was sung from the perspective of a youth who had just landed a job and was already dreaming of a happy middle-class life with his beloved Bela Bose. Every stanza — describing their life together and how they could no longer be kept apart because he was unemployed — was succeeded by pleas asking if he had called the right number: 2441139.
The attribution
As the song peaked in popularity, and even years later, people would reportedly call up the number and actually ask for Bela Bose. Accounts vary on who picked up — sometimes it was an irate bank employee, other times it was some old man living in his house. Then, as caller-identification technology progressed, these calls ceased.
Now, caller-identification app TrueCaller has turned this joke on its head by identifying the seven-digit number as belonging to Bela Bose! See it right here: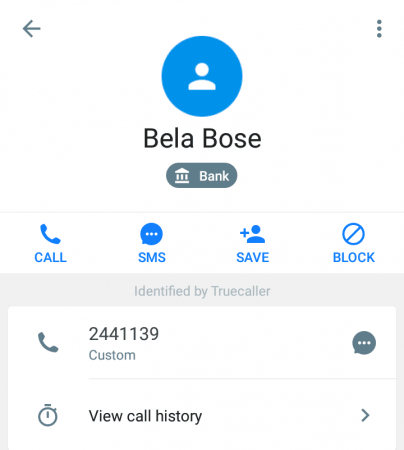 Now whether TrueCaller has done this on its own or someone has saved the number in the name of Bela Bose — leading the app to think the number belongs to this individual — is still a mystery, but those who know the song and the reference are absolutely delighted!
So is there really a Bela Bose?
Anjan Dutt has clarified in interviews that he does not know any Bela Bose — she is an entirely imaginary character. Although, other people mentioned in his songs, like Marian, were real. In fact, Marian was reportedly his childhood love.
Then where did 2441139 come from?
In an interview to Dhaka Tribune, Dutt said: "The number 2441139 was the contact of a newspaper editor who actually had filed a case against me, which caused my singing to come to a halt." Clearly, this was Dutt's passive-aggressive way of getting back at the editor.