In the run-up to the Karnataka Assembly elections, religious seers are joining the war of words taking place between major parties, with Mantralaya Mutt seer Subudendra Theertha Swamiji on Tuesday slamming Congress leader Siddaramaiah's statement that he is a Hindu, but he won't agree to Hindutva.
Talking to reporters, he said that "there is no meaning in the vague statement given by Siddaramaiah" and contended that Hindus should agree to Hindutva.
"I don't know the background for him (Siddaramaiah) issuing such a statement. He might have difference of opinion regarding Hidutva. Despite that, all Hindus must carry forward Hindutva," the seer said.
Equating Hinduism and Hindutva to a "mother and a son relationship", he said: "When you are a Hindu, one should respect Hindutva. In case of any difference of opinion, the doubt should be solved through discussion. It is meaningless to oppose Hindutva by claiming yourself as a Hindu."
The seer also maintained that caste system must go but termed the statement opposing Brahmins from becoming CM "anti-constitutional".
"We condemn abusing of Brahmins. No community should be subjected to this. If any community is abused, it is like disrespecting the Constitution," he claimed.
Comments on Brahmanism and the BJP 'making a Brahmin candidate the CM' by former Chief Minister H.D. Kumaraswamy have stirred a controversy in Karnataka. However, on Tuesday he did a u-turn and clarified that he has no objections to a Brahmin becoming the CM.
He said he has nothing against Brahmins, but his comment was on Union Minister for Mine, Coal and Parliamentary Affairs Pralhad Joshi.
"If the BJP plans to make Union Minister for Mine, Coal and Parliamentary Affairs Pralhad Joshi as the CM if the BJP is voted to power, the party must declare his candidature before the Assembly elections. I don't have any objections if any candidate from the Brahmin community is made the CM. There are deserving candidates in the community.
Kumaraswamy questions Pralhad Joshi's lineage
"The main reason for me to mention the name of Pralhad Joshi is not because he is a Brahmin. He belongs to a lineage, which has the DNA of the killer of Mahatma Gandhi and the ones who attacked Sringeri Mutt. Karnataka Brahmins are well cultured. I don't have any intention to fix the BJP party. I have intentions of not letting the people into a fix," he maintained.
"Most of the people in BJP are experiencing the suffocating environment. The developments are not satisfying. The 2006 BJP government under Yediyurappa is not there now. The party is caught in the fists of high command and RSS pracharaks. There is a conspiracy to project different faces in the elections to get votes and make a backdoor entry to the post of CM. These conspiracies should not cheat people. That is why I am voicing concerns," he said.
Pralhad Joshi as next CM?
"BJP has sidelined former CM B.S. Yediyurappa, former CM Jagadish Shettar was kept out of the Union Home Minister Amit Shah's visit. I got information that Pralhad Joshi will become the CM after elections. BJP had also planned to make eight DyCM's and I got their list," he said.
Chief Minister Basavaraj Bommai stated that he is wondering how Kumaraswamy can dream about the BJP's internal affairs. "He (Kumaraswamy) keeps on telling one or the other thing," he said.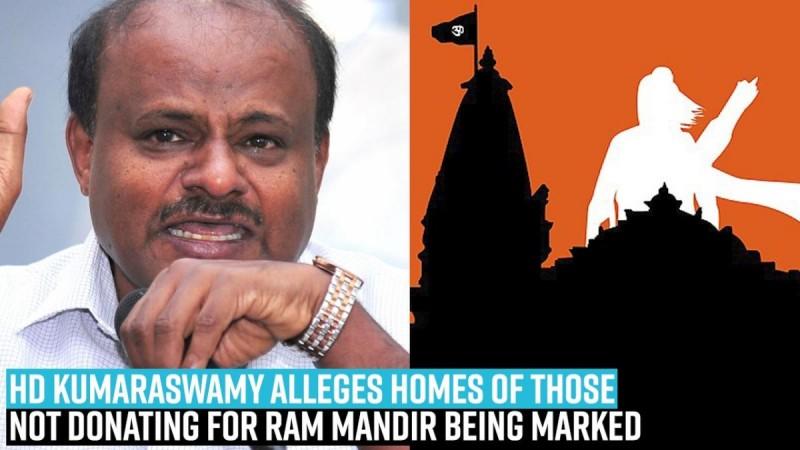 Ashok Haranahalli, President, Akhila Karnataka Brahmana Mahasabha, stated that the Brahmin community has respect for former PM Deve Gowda's family. But, the comments by his son, Kumaraswamy, have hurt the feelings of the Brahmin community. It does not suit his dignity to drag the name of the community while making political criticism.
Vishwaprasannatheertha Swamiji of Udupi Pejawar Mutt had questioned Kumaraswamy whether Brahmins are not supposed to become CMs? Are they not citizens of this country?
Opposition leader Siddaramaiah stated that he wouldn't accept the statements of Kumaraswamy. The question only arises only when the BJP achieves power. They will end up with only 50 to 60 seats, he said.
(WIth inputs from IANS)