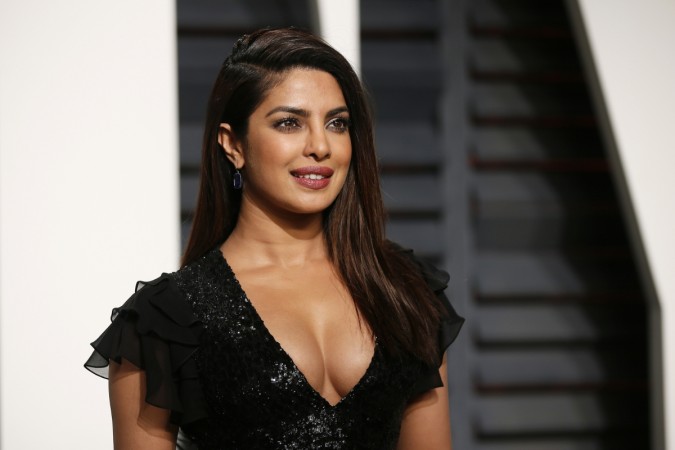 Another feather in the cap for the Bollywood beauty. Priyanka Chopra is made a jury member at the 16th Tribeca Film Festival ahead of her first Hollywood release. Baywatch, starring the former Miss World, is slated to release on May 26.
Also read: Priyanka Chopra's new Baywatch poster rips off Almost Famous, and Kate Hudson fans are not happy
The Quantico actor shared a picture on Twitter with Hollywood veterans: "An afternoon with the greats. Congrats @whoopigoldberg @janetribeca #RobertDeNiro on 16 yrs!", read the caption.
The 34-year-old actress nailed her look in a short-sleeved white-coloured layered dress styling with a pair of black heels at the festival. The diamond earrings, mauve lipstick and minimal makeup completed the look.
The Bollywood actress is in illustrious company as other jury members of the festival include the likes of Amy Berg, Zachary Quinto, Sheila Nevins, Willem Dafoe, Jesse Plemons and Melanie Lynskey, according to The Hollywood Reporter.
Priyanka Chopra, who rose to international fame as Alex Parrish in Quantico, will judge the documentary and student visionary competitions along with Olivia Thirlby, Ryan Eggold, Brendan Fraser and Ileen Gallagher.
The winners of each category will be announced at the festival awards ceremony slaed to be held on April 27 at BMCC Tribeca Performing Arts Center. The 2017 Tribeca Film Festival began on April 19 and will end on April 30. It will be hosted by Michael Rapaport.
Days after her announcement of leaving New York city, Chopra has unveiled a brand new poster of her upcoming film Baywatch. The movie has Dwayne Johnson and Zac Efron in the lead.