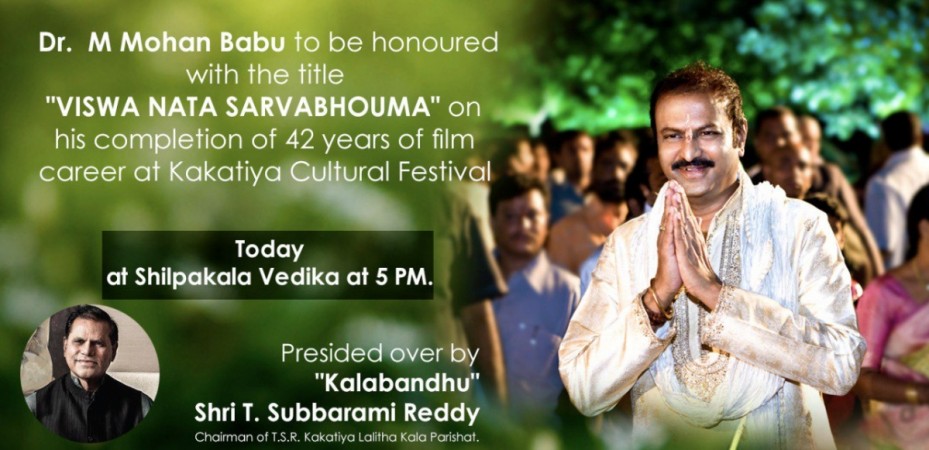 Nandamuri Balakrishna is set to honour senior actor Dr Mohan Babu with the title "Viswa Nata Sarvabhouma" at a grand function on January 17. He will also release the song Jai Hanuma from his film Gayatri.
Former minister T Subbarami Reddy, who is known for promoting art and culture, is organising the TSR Kakatiya Lalitha Kala Parishath, which is intended to showcase the heritage of the Kakatiya dynasty. The event will have folk dance shows and musical programmes to highlight the Kakatiya culture.
T Subbarami Reddy has also planned to honour films at this cultural festival. Mohan Babu, who has acted in 560 films in 42 years, will be honoured with the title "Viswa Nata Sarvabhouma" at the grand function to be held at Shilpa Kala Vedhika in the city on Wednesday evening.
The Kakatiya cultural festival will be presided over by T Subbarami Reddy, while Nandamuri Balakrishna will attend the event as a chief guest. The song Jai Hanuma from Mohan Babu's upcoming film Gayatri will be released on this occasion.
Producer BA Raju tweeted: "A glimpse of electrifying song #JaiHanuma from Dr.@themohanbabu's #Gayatri will be out Today @ 7 PM. Co-starring @ivishnumanchu, @shriya1109 & @Nikhilavimal1, Directed by #Madan, A @MusicThaman Musical #MB42."
Mohan Babu's next film Gayatri is scheduled for grand release in the theatres on February 9.
The makers of the film released its teaser online as a Sankranti treat for filmgoers. The royal vintage look of Mohan Babu featured in this first-look video has created a lot of curiosity about the movie.