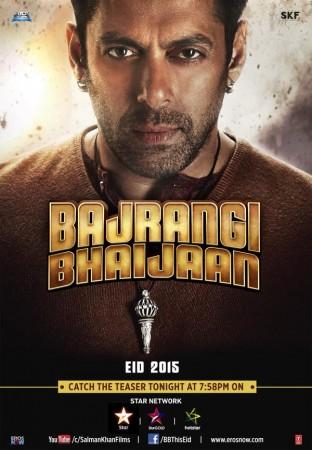 Salman Khan's "Bajrangi Bhaijaan" has already raised the expectations of trade analysts and with no big movies releasing for two weeks after its release, the film is going to enjoy its non-stop run.
Since "Bajrangi Bhaijaan" is one of the biggest releases of 2015, the film is expected to have a good box office run. Additionally the film also has the advantage of being a solo release. And keeping in mind Salman's Eid craze, no other big films are releasing during the period.
It is only on 30 July, almost after two weeks of Salman's film release, two big movies including Ajay Devgn's "Drishyam" and Riteish Deshmukh's "Bangistan" will hit the screens. Until then, Salman's "Bajrangi Bhaijaan" will have 15 days to earn the production cost and break records at the box office.
"When a film arrives on a record number of screens, and that too with a hefty price tag attached to it, the need of the hour is to allow an uninterrupted run and let it run its course. You need at least a couple of major weekends for a film to rake in moolah," a source attached to the film told Bollywood Hungama.
"Also, when there is set audience for a Salman starrer, why to spoil the party with a needless release thrown in between? That would only end up being counterproductive for the film in question, as well as exhibitors and distributors," he added.
Buzz surrounding "Bajrangi Bhaijaan" has already reached its peak. The teaser trailer, title, first look and Khan's promoting the film has garnered the attention and the Eid bonanza is expected to work in the favour of the film.
Directed by Kabir Khan, the film features Kareena Kapoor Khan, Harshaali Malhotra and Nawazuddin Siddiqui in pivotal roles.