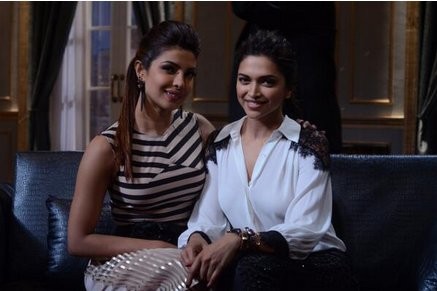 The "Dola Re Dola" song from "Devdas" featuring Bollywood's stunning beauties Aishwarya Rai Bachchan and Madhuri Dixit Nene is still very popular.
If the latest reports are to be believed, then Deepika Padukone and Priyanka Chopra will recreate the same magic in the upcoming film "Bajirao Mastani".
Padukone and Chopra have been signed in for Sanjay Leela Bhansali's dream project along with Ranveer Singh.
Padukone will play the female lead role of Mastani, while Chopra will play as Bajirao's first wife Kashibai. Though, Padukone will play the female lead role, Chopra too has an important part in the film.
And like Bachchan and Nene, Chopra and Padukone will also have a dance sequence.
In "Devdas", Bachchan played the lead role of Paro, while Dixit was the supporting character Chandramukhi. Bhansali believed that Paro and Chandramukhi had to come face to face for audiences and for that he created the dance scene, which is still popular.
A source close to the project, said that Bhansali wrote a dramatic dance-off scene for Padukone and Chopra.
"Though the film is named after Mastani (Deepika) the other woman in Bajirao's life, Kashibai has an equally important role in SLB's script," the source told DNA.
"Kashibai's role was never a walk-on. Not even eight years ago when SLB planned to make the film with Kareena (as Mastani) and Rani Mukerji (as Kashibai)."
Padukone and Chopra have worked in Bhansali's directorial film "Goliyon Ki Raasleela Ram-leela" but never shared the screen space. This will be the first time the two actresses, who are also best friends, will share screen space in the epic drama.
"Bajirao Mastani" is Bhansali's dream project, which he initially planned with Kareena Kapoor Khan and Rani Mukherji. But after almost eight years, the director—producer finalised the lead cast with Padukone, Singh and Chopra. The film is set to release on Christmas next year.