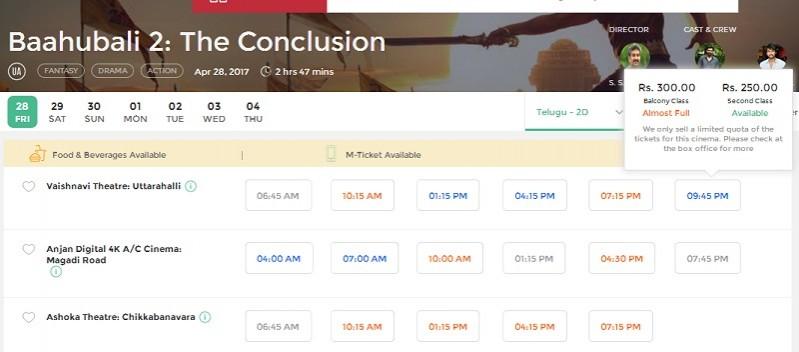 The advance booking of Baahubali 2 (Bahubali 2) in Chennai and Chengalpet was started on Wednesday, April 26. With only two days left for the release of the multilingual film, there is a huge demand for the tickets. Likewise, the full-fledged booking is commencing in Bengaluru on Wednesday, where the film will see the light of the day in four languages.
As of now, the advance booking on Book My Show have been started for over 60 shows in Chennai and tickets for many theatres have been sold out. In most of the centres, seats are filling fast. In leading SPI Cinemas, the tickets for 90 percent of the shows have been sold with only handful of tickets left for booking. Going by the latest updates on its website, it is having 80 shows from its five screens on Friday. Below, find the availability of tickets for the Chennai region:
At 10.00 am Thursday: AGS Cinemas: Villivakkam: 11.30 am, 11.45 am, 12.15 pm, 3.00 pm, 3.15 pm, 3.45 pm & more
AGS Cinemas: Villivakkam: 11.30 am, 11.45 am, 12.15 pm, 3.00 pm, 3.15 pm, 3.45 pm & more
AGS Cinemas OMR: Navlur: 11.30 am, 11.50 am, 12.30 pm, 3.00 pm, 3.20 pm, 4.00 pm & more.
AGS Cinemas: T Nagar: 10.45 pm
Mayajaal: Tickets for over 40 shows are available.
SPI Cinemas (S3 Perambur): 11.55 pm, 3.35 pm, 6.50 pm, 7.15 pm, 10.50 pm and tickets available for a few other shows. Check their website for complete listing.
Kumaran Theatre: Few tickets available for 11.30 am, 2.30 pm, 7.00 pm and 10.00 pm.
Raj Theatre: Tickets available for all the shows.
Rohini Silver Screens: Tickets selling fast for eight shows.
SK-Marlen Cinemas, Guindy: Alandur: Tickets almost sold for All the four shows.
Arul Muruga: Thiruporur: Tickets available for 8.30 am, 11.30 am, 2.30 pm, 6.30 pm, 9.30 pm shows.
On the other hand, the tickets in Bengaluru are selling like hotcakes for the Telugu version. Cashing in on the craze, the multiplex and singe screens are charging exorbitant prices for the tickets.
Baahubali is having over 150 shows in Bengaluru from different versions. It is likely to cross 300 before release as many centers are yet to start the pre-booking. The audience from the Garden City can check the availability of the tickets below:
Vaishnavi Theatre added two shows - 1.15 pm & 4.15 pm
Akash Cinemas (Laggere): Many tickets available for 1.30 pm & 4.30 pm shows.
Bhumika, Gandhi Nagar: 4.15 pm show.