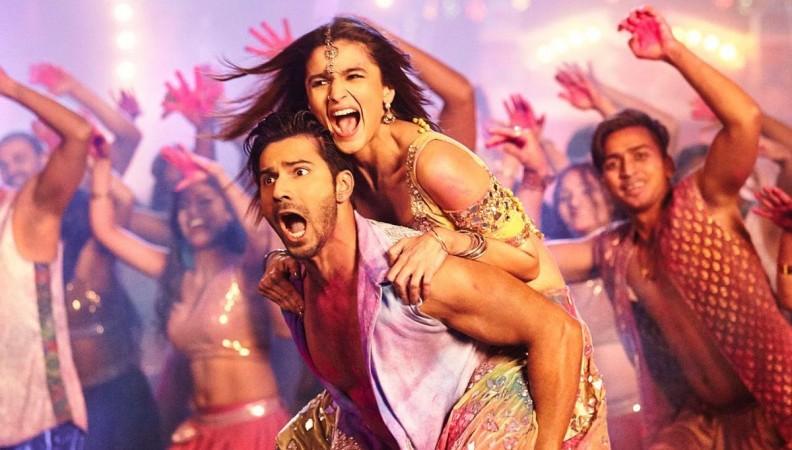 Karan Johar's production venture, Badrinath Ki Dulhania (Badrinath Ki Dulhaniya), starring Varun Dhawan and Alia Bhatt, releases in theatres on Friday, March 10. Before the release, a special screening was held on Tuesday for the team's close friends and family. The movie has received overwhelming reviews from Bollywood critics and celebrities.
This is how Badrinath Ki Dulhania actor Varun Dhawan is preparing himself for Judwaa 2
Varun's ladylove Natasha Dalal, David Dhawan, Divya Khosla Kumar, Manish Malhotra, Mahesh Bhatt, Soni Razdan and others attended the special screening of Badrinath Ki Dulhania.
According to Indian Express report, Alia's mother Soni Razdan told media, "Both Alia and Varun are so natural and comfortable with each other that it's a pleasure to watch them. It was so charming and fun." Mahesh Bhatt complimented by saying that the film was miles ahead of the first instalment of the franchise, Humpty Sharma ki Dulhania. Natasha said, "It was very nice."
They also took to social media to praise the film. Senior Bhatt wrote on Twitter: "Concealed in the heart of this romantic comedy is a poignant social message. Varun & Alia r wonderful. It's a triumph for Shashank Khaitan."
Directed by Shashank Khaitan, Badrinath Ki Dulhania is a romantic comedy drama set in a small town in Uttar Pradesh. The film's trailer and songs have raised the curiosity among the movie buffs. Also, Varun and Alia's chemistry has left the audience amazed.
Check Badrinath Ki Dulhania movie reviews by Bollywood celebrities:
BKD : heartwarming heartbreaking and completely surprising @Varun_dvn @aliaa08 charm the socks off ShashankKhaitan is a superb story teller

— Soni Razdan (@Soni_Razdan) March 7, 2017
Concealed in the heart of this romantic comedy is a poignant social message. Varun & Alia r wonderful. It's a triumph for Shashank Khaitan. https://t.co/nYuO6Dfjjv

— Mahesh Bhatt (@MaheshNBhatt) March 7, 2017
Below are the Badrinath Ki Dulhania movie reviews by Bollywood critics:
Manjusha Radhakrishnan of Gulf News said: "The first half of the film moves at a brisk pace, while the second half gets bogged down by an overly long stretch about Vaidehi's profession as an air hostess. However, it's the chemistry between the lead pair is what keeps you hooked to this romance. While the comical twists put a smile on your face, a stray joke about homosexuals was unwarranted and grating."
Manju Ramanan of Masala.com said: "Badrinath... stretches post interval and the much-awaited Tamma Tamma Loge song appears towards the end. The groom-choosing scene didn't work for me – it was too flighty in a set-up that was real. The film twists towards the end when Badri's character changes from being totally patriarchal to understanding the challenges of women and then, accosting his father. It ends as being idealistic but takes forward the cause it espouses. Varun is endearing and earnest and shines in the role matching it with Alia's luminous presence and histrionics. Succinctly put, it is a Varun Dhawan film and adds to his repertoire of memorable roles."
Surabhi Redkar of Koimoi said: "Shashank Khaitan's attempt at giving it a small town twist works in this case, considering his focus on dowry and patriarchy that's pre-dominant in these societies. What's good is that in spite of a message to give, the film at no point becomes didactic, it keeps its original motive of entertainment, high at times with the songs and dialogues. Badrinath Ki Dulhania is a suitable watch for those who enjoy Bollywood rom-coms. It will make up for a perfect breezy watch for the weekend. Alia-Varun once again show, they are the new-age Raj-Simran."
Rashma Shetty Bali of Bollywood Life said: "Alia Bhatt and Varun Dhawan prove that their pair means a bona fide success. Shashank Khaitan gives you a movie that you can relax with family and friends on an extended Holi weekend. Go watch it especially for Varun Dhawan! The second half falters and the efforts to incorporate Singapore tourism is too on your face. While we see Badri and Vaidehi's relationship build, the build-up itself is a little boring."
Stay tuned for more updates.