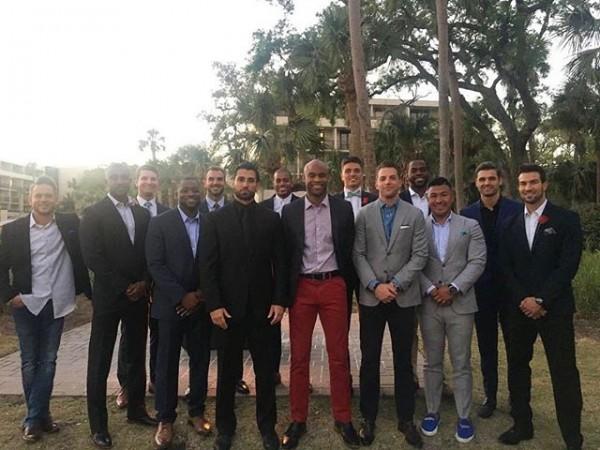 Team Bachelorette's Monday episode was nothing short of a roller coaster ride. The series was slowed down by two important events—the NBA finals and US President Donald Trump's historic meet with North Korean dictator Kim Jong Un. However, none of these pesky events could stop the show from being Monday night's slow winner.
According to a report on Deadline, the third episode The Bachelorette fell 13 percent when compared to the last episode. However, still, the Disney-owned series swept the night overall with a 1.2/4 rating and 4.72 million viewers.
In this week's episode, we saw Becca trying hard to recover from the last week's fiasco as she takes six gentlemen on a spa date. But as the besties arrive to get pampered Tia and Colton' facial expression goes vaguely. However, both Colton and Tia assure that their fling was not a big deal and it would never come in between his romance with Becca. Amidst all the promises, it looks like there is something fishy between Colton and Tia.
In addition, this week's one-on-one went to Chris, who opened up about his turbulent relationship with his father and also to Richard Marx. On the second group date, the 10 men were exposed to some drills and scrimmage against a live crowd. The episode was ended just before the rose ceremony. Well, that means Becca would be sending off this week's castoffs in next episode.
In the fourth episode of "The Bachelorette," it looks like David is all set to make a comeback and the team, for the first time, will be flying outside Los Angeles for dates. With Clay's exist following an injury, it looks like Becca, who has to eliminate two members, will have an intimate private conversation with Blake and Jordan.
Following the rose ceremony, Becca and her men will fly to Park City, Utah for another round of dates. And Garrett will get his lone time with Becca. A series of leaked images show the two going on a bobsledding adventure followed with a concert by Granger Smith. According to Reality Steve, Garrett gets the rose on the date and there are predictions that Nick, Christon and Jean Blanc will be on the elimination list in Utah.
"The Bachelorette" airs on Mondays at 8 p.m. on ABC.