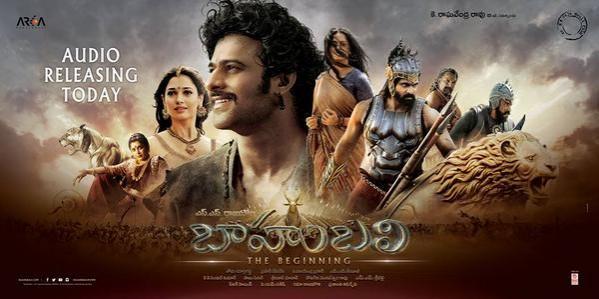 The audio of SS Rajamouli's "Baahubali – The Beginning" has been released and MM Keeravani's compositions have impressed music lovers, it seems.
"Baahubali – The Beginning" has seven songs composed by MM Keeravani. Inaganti Sundar has penned three lyrics, while Ananta Sriram, Ramajogayya Sastry, Chaitanya Prasad and K Shiva Shakti Datta have written one song each.
MM Keeravani, Karthik, Damini, Geetha Madhuri, Ramya Behara, Deepu, Satya Yamini, Mohana Bhogaraju, Revanth and Mounima have lent their voices for the songs.
Music lovers seem to be mesmerised with 'Pacha Bottasi', 'Dheerava', 'Mamatala Talli' and 'Sivuni Aana'.
We bring you critics' verdict and fans' comments posted below its jukebox on YouTube.
Continue to read "Baahubali" music review:
Baahubali's music album surely lives to the hype and hysteria. All the songs are situational and will impress you even more after you watch S S Rajamouli's stunning visuals on screen. Dheevara, Pacha Botesina, Shivuni Aana and Mamatala Talli are our picks and will be liked by everyone. Finally, Baahubali's music score is one of the best works of Keeravani and will elevate this biggest motion picture of India to another level.
Baahubali can be termed as another feast from the inevitable combination of S.S.Rajamouli and MM Keeravani! However, it sure leaves the listener asking for more!
Subhash Anumula
Frankly M M Keeravani songs are like slow poison, initially we feel like average but slowly they feel so good, he is a good composer and best musician. when we watch these songs with video, definitely they will be on our tongue always and the video in our mind eveytime.
Lifeiscool123
Listening on a loop! First impression is average! slow poison laga ekkuthunnai!movie lo rajamouli taking tho chusthey pichi peaks lo ekkesthai ani na feeling :) almost all are situational songs! story ki em kavalo entha kavalo anthey icharu anukunta mm keervani! fantasy film which was of many hundred years back, fast beats expect cheyakudadhu! ilaney correct! just wait for the film, music gonna rock with the feel of the film
Shailendra Naik
Moreover 3 songs are much better good and new thy r pachcha bottesi,mamathal thali, sivun aana are good.. Hope they would worked more for othr songs,,,, but thy not much as good as mentioned above.. btw u knw keeravani BGM is awesome as usually
Komma Nagesh
Superb Songs. Mamathala thalli song is too too. good. Pacha bottesi song superb. Shivuni anna song also good. Overall lived up to expectations.
Ravella Venkata Shivaji
All tracks are awesome and i think the songs with the visualization of S.S.R would be awesome the importance given to sahityam by m.m.kreem garau was excellent and thanks to Lahari music for giving such gud tracks
Praveen Kumar
Mamatala Thalli Song Peaks Asalu..... B| ,,/ ,,/ MM Keeravani
TheAbhi500
Hats off to Sri Keeravani garu for giving such an awesome music. And more than anything else just giving a wonderful opportunity for young Telugu singers in this epic movie. Satya Yamini, Deepu, Ramya, Revanth, Damini, Geetha Madhuri and Mohana Bhogaraju. Each one of them did full justice . Any other music director would have outsourced it to non-Telugu singers and ruined the lyrics with their horrible pronunciation.
Jayasurya Pathapati
Pachacha bottesi! The music reminds me of good ol' telugu songs we've long forgotten..or had. Only keeravani can bring back the telugu melodies, it's so refreshing!
Hitesh Chowdary
I really love songs and happy and iam sure that this movie will take telugu industry to top and make indian film industry proud mamathala talli and sivudi aana elevated the track hearty congrats to entire baahubali unit ---------- on behalf of ntr and prabhas fans [dhs,hyderabad] and legendery rajamouli sir fans
Sudharshan Reddy
All Songs are superb..:-) Peddanna Keeravaani gaariki na paadabivandam for giving such a wonderful songs...Excellent BGM for all songs... mainly Sivuni aana and Mamatala thalli songs are superbbbbbb.....I have Listed this songs more than 50 times, Still listening not getting bore..that's Keeravani gaari Music, Music and sahityam pai manchi pattuvunna Music director.
Suri T
1st attempt may not catch but once you absorb they will go on for quite sometime. Slow-paced tracks seems to have been designed to carry the story rather than targeting fast paced audio lovers. Understandably lyrics are heavy too to suit period movie. Interestingly length of each track is also very short. Could have been better. Still love them as loyal patron to SSR movies. Thanks Lahari for uploading high quality audio. -NJ, USA