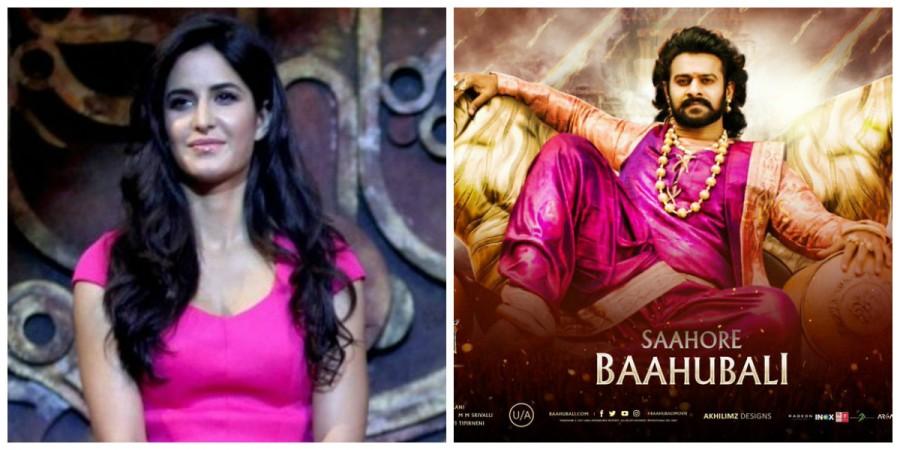 Prabhas has become a global sensation after the success of Baahubali 2 (Bahubali 2), and the latest buzz suggests that even Katrina Kaif is trying to cash in on the actor's popularity.
It was reported some days back that Katrina has bagged the female lead role in Prabhas' next movie Saaho (Sahoo). However, latest reports claim that the actress has not been roped in for the movie, and that her team is spreading rumours.
Also read: Akshay Kumar is annoyed with Twinkle Khanna, and the reason is Kattappa
The makers of Saaho had approached Katrina much before the release of Baahubali 2, but she did not pay much attention then. However, after the overwhelming success of the magnum opus, Katrina's team is reportedly trying to grab publicity around the upcoming movie.
"Katrina Kaif is not in Saaho. She could have been part of it, as we had chased her for six months. This was before the release of Baahubali 2, when she didn't think working with Prabhas was worth her while. So after pursuing her for six months, we gave up on the idea of signing her for the movie," The Asian Age quoted a source close to Saaho as saying.
"Now, when Baahubali 2 has turned out to be a much bigger success than expected, Kat's team is spreading rumours of her presence in Saaho. It's just not true," he added.
The report further said that Prabhas has now decided to finalise a Telugu actress for Saaho, as his pairing with Anushka Shetty (who is from south industry) did wonders at the box office.
There have been many speculations and rumours surrounding the leading actress in Saaho. After Katrina's rumoured association with Saaho, it was reported that Pooja Hegde will be part of the project. Also, there are reports saying that Shraddha Kapoor and Disha Patani were offered the female lead slot, but the two were rejected due to their high fee demands. Well, it will be interesting to see who actually grabs the role opposite Prabhas in Saaho.