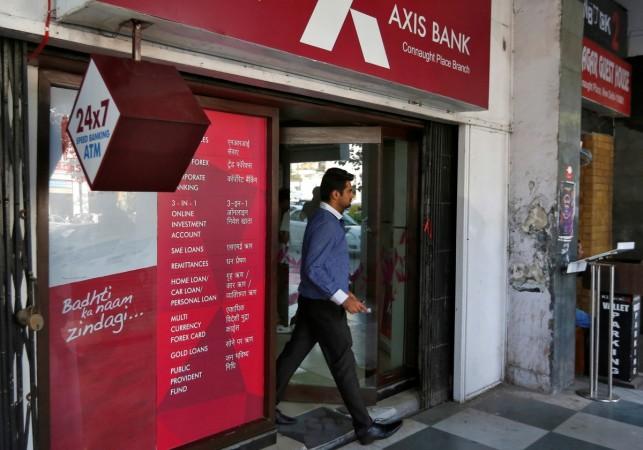 Private sector lender Axis Bank on Tuesday followed State Bank of India (SBI) and Bank of Baroda to reduce the interest rate on savings bank deposits. In a regulatory filing to the stock exchanges, the lender said interest rate on savings account deposits with a balance of up to Rs 50 lakh will now earn 3.50 percent as against 4 percent while the rate on balance above the limit remains unchanged.
"The new interest rates will be effective from August 8, 2017," Axis Bank informed the BSE.
Also read: State Bank of India shares spurt after lender cuts interest rate on savings deposits
The share price of the bank closed 1.32 percent lower at Rs 499 on the BSE while the 30-scrip Sensex ended at 32,014, down 259 points.
The lowering of interest rates on savings deposits is a trend that is all set to encompass most of the banks, given that they are flush with the money deposited in the wake of demonetisation. The surge in deposits has been accompanied with a record low in credit offtake, forcing banks to slash deposit rates to maintain their margins.
A few days ago, brokerage Nomura had said that a reduction in interest rates on savings account deposits would boost margins of banks, especially those of state-owned.
"From an earnings perspective, the positive impact is highest for PSU banks (12-20 percent of PBT) due to their weak overall profitability. Impact on private banks profitability will be 3-6 percent if they cut their SA rate," analysts Adarsh Parasrampuria and Amit Nanavati said in their note.
Bank of Baroda followed SBI to cut the interest rate on savings account deposits to 3.5 percent from 4 percent on balances below Rs 50 lakh while those above the threshold will continue to fetch 4 percent interest, according to a regulatory filing to the BSE by the state-owned lender.
July retail inflation estimates
In a note on Tuesday, brokerage Nirmal Bang Institutional Equities (NBIE) said that retail inflation for July is likely to spike from that recorded in the previous month.
"July 2017 Consumer Price Index or CPI inflation is likely to come in at 2.45 percent YoY, up from 1.54 percent in the previous month. A large part of the increase in inflation will come from the spike in vegetable prices, particularly tomatoes in late June and early July 2017," economist Teresa John said in her note.
"Tomato prices rose by about 100%-200% over the past one month. With a weight of about 0.57 percent in CPI, we believe the increase in tomato prices alone can contribute between 60bps-100bps to headline CPI inflation," she added.