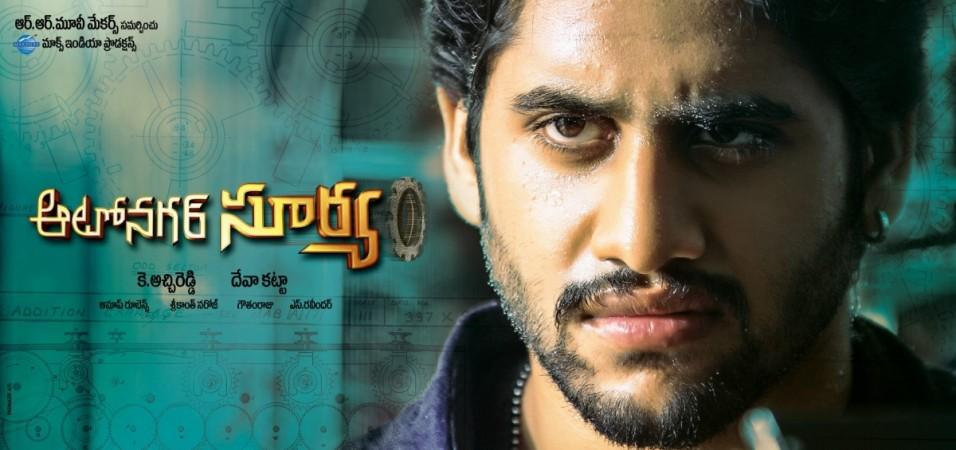 Naga Chaitanya-Samantha's "Autonagar Surya" has opened to average reviews from critics.
After several delays, "Autonagar Surya" hit the screens on Friday. The film, directed by Deva Katta, has Rakul Preet Singh, Sai Kumar, Brahmanandam, M. S. Narayana, Jaya Prakash Reddy and Ashish Vidyarthi among others in pivotal roles.
Story: Surya's (Naga Chaitanya) parents were murdered by a rowdy during a train journey when he was very young. He grows up in Autonagar, Vijayawada, and becomes a mechanic. In an unfortunate situation, Surya kills a goon and goes to jail. He spends five years in jail and completes his engineering course to start his dream project.
Surya's ambition is to build a vehicle that runs only on battery and he desires to complete the project once he is out of the jail. However, he faces hurdles while working on his project from mayor (Madhu) and his goons including Ajay and Jaya Prakaash Reddy, who contol the Autonagar area. The rest of the story is about how Surya deals with the antagonists.
Critics have appreciated Naga Chaitanya's performance in the film calling it as one of his best efforts. The dialogues are also said to be one of the major highlights of the political action drama. On the other hand, the film's lengthy runtime, weak second half and violent scenes are said to be the major drawbacks of the film.
Check Below the Review Roundup of "Autonagar Surya"
Gulte says, "First half has some good moments that will raise hopes over the second half. But the second half failed to live up with action taking the front seat. Mood of the film turns very serious and there is little scope left for other elements. Chaitanya and Samantha's love track goes missing in the second hour. Forced comedy doesn't help the movie much. They could simply chop off Brahmanandam's scenes which are sheer waste of time."
123Telugu says, "Auto Nagar Surya is one film which starts off with much promise, but dips down badly during the second half. Naga Chaitanya's striking performance is a plus, but lack of basic entertainment, and a hurried up climax spoil the fun to an extent. Finally, Naga Chaitanya can be extremely proud of this film, as he is the only best thing in this average entertainer."
Talking about the film's cast, AP Today says, "The film predominantly deals with Surya essayed by Naga Chaitanya. Samantha as Sirisha, is easy on eyes and revs up the glam quotient. She plays Chaitu's maradalu role and lived up to the character just like her previous films. Sai Kumar too did justice to his role. Brahmanandam and Venu Madhav's part goes awry and backfires. The special song on Brahmi is so bad that one can understand that it is forcefully injected."
According to OM of Andhraboxoffice, "The 1st half sets-up the premise and establishes Surya as a power centre and is Okay. The 2nd Half feels dragged with no story except mind games. Songs are weak and Comedy is hardly good enough."
"The intense premise and powerful narration with good dialogues save the film from being a bad one. It is a watchable film if one can adjust to the plot and move on with its seriousness. The Script demanded a big star and better actor, although Chay did a lot better than his previous flicks. It might still make some money."
Verdict: First Half Raises Hope, But it Fizzles Out in Second Half; Average Fare