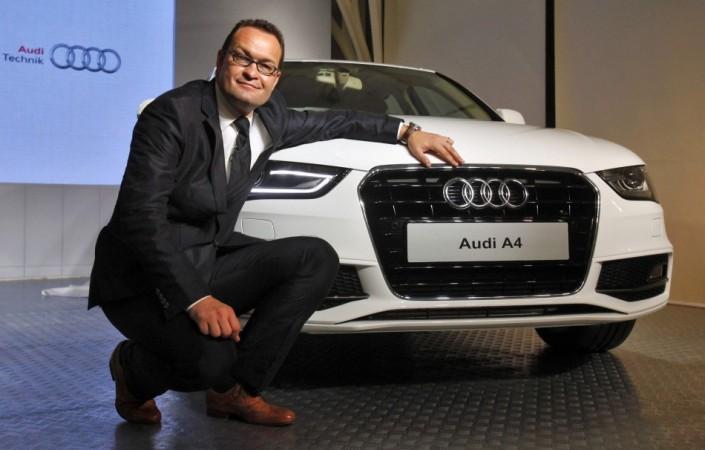 German luxury auto maker Audi has recalled 6,758 units of A4 sedans in India for the software update of airbag control unit.
The company said the recall is a part of the Audi's global exercise where the Audi recalled 8.5 lakh units of the A4 sedan to replace the faulty airbag. In India, the company will recall 6,758 units of A4, which were manufactured between November 2011 and October 2014.
"This activity is specific to Audi A4 cars manufactured between November 2011 and October 2014. There are 6,758 Audi A4 identified for this software update campaign," Business standard quoted Audi India.
The recall will include only the software update for the airbag unit and the update will be done at the dealerships of the company. The owners of the affected vehicles will be contacted directly by the dealers and according the company the process has already been initiated.
This is Audi's second recall in the country in less than a week. Earlier last week, Audi issued a recall for 382 units of its premium sports utility vehicle Q7 to replace faulty vacuum line in brake system. It was part of company's recall of 70,000 units of sedans A4, A5, A6 and A7 and SUVs Q5 and Q7 to replace vacuum line in the brake system.
Recent Vehicle Recalls in India
Honda cars recalled 2,338 units of its hatchback Brio, compact sedan Amaze and sports utility vehicle CR-V to fix a problem with the faulty airbag in October.
In October, Nissan India recalled around 9,000 units of Micra and Sunny, which were manufactured between 2008 and 2012 to replace faulty airbag.
In July, Honda recalled over 1,075 units of Honda Accord and 252 units of Honda CR-V over faulty airbag.
Earlier in July, Mahindra & Mahindra, India's SUV maker recalled 23,519 units of its iconic Scorpio in the country over a faulty pressure regulating valves.
Hyundai Motor India recalled 2,437 units of Santa FE SUV in the country to fix a problem with the Stop Lamp Switch in May 2014.
In one of the biggest recalls in the country, Maruti Suzuki, the country's largest car maker, had recalled 1,03,311 units of Ertiga, Swift and DZire in India to fix a problem with the fuel filler neck in April. The recall included 47,237 units of its popular hatchback Swift, 42,481 units of its sedan DZire and 13,593 units of its multi-passenger vehicle Ertiga, which were manufactured between 12 November 2013 and 4 February 2014.
Toyota India had also issued a recall for 45,000 units of its multi-utility vehicle (MPV) Innova, which were manufactured between February 2005 and December 2008, over a problem with the steering column.
Till date, General Motors India's is the biggest recall in the country. The company had recalled 1.14 lakh units of the Chevrolet Tavera in July last year, which were manufactured between 2005 and 2013 to fix the issues related to emissions and specifications.