In 2014, Asus focused more on the utilities of the Zenfone 2 series including the photography-centric Zenfone 2 Laser. This year's Zenfone 3 Laser not only comes with upgraded camera, but also visually appealing design and impressive build quality.
We had the opportunity to test the Zenfone 3 Laser's 5.5-inch model for close to a month. Here's our take on Asus' new camera oriented phone.
Design and Build quality (4.5/5):
As said before, one of the highlights of Zenfone 3 Laser is its eye-catching visual looks. The review unit we got had gold-hued metallic shell on the back with curved corners.
It also houses square-shaped camera module having curved contours in between the LED flash (right) and Laser auto focus (left) on the back. The snapper protrudes a bit when put on the flat table, but it does not bring any inconvenience during idle or in use, per se.
Also read: Google Play's Best of 2016: Here's the list of 5 most trending Android games and apps
As far build quality is concerned, the Zenfone 3 Laser managed to impress us a lot. Its back is covered by high-grade metal shield and yet, it feels light to hold.
Another aspect we liked about the Zenfone 3 Laser is that it's got fingerprint-resistant Oleo-phobic coating on the back.
As far display is concerned, Zenfone 3 Laser 5.5-inch screen having full HD (1920x1080p) resolution. It offers rich viewing experience especially high resolution videos. It also comes with 2.5D Gorilla Glass sheild, which not only protects the screen from scratches, but also enhances the visual appeal of the phone.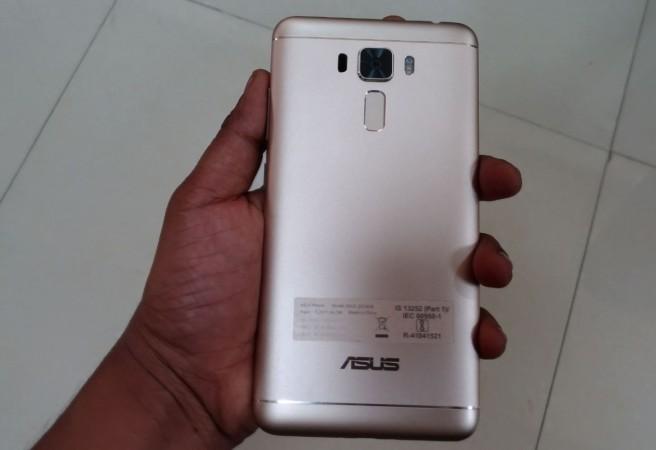 However, there is one qualm in the device, is that the Zenfone 3 Laser's capacitive buttons—back (left) home (center) and recents (right)—are not back-lit, which was really irksome for us while operating it with no light in the room.
Dimensions: 149 x 76 x 7.9 mm
Weight: 150g.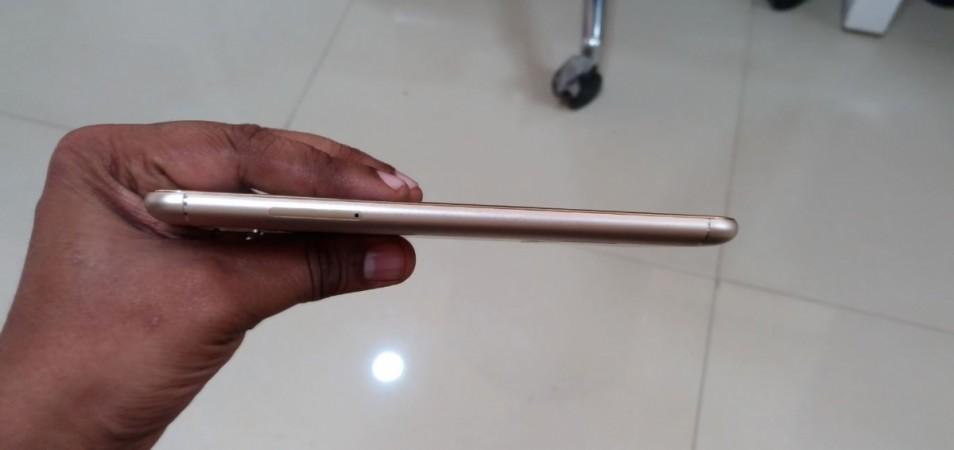 Performance (4/5):
Asus Zenfone 3 Laser comes with Qualcomm Snapdragon 430 octa-core CPU with Adreno 505 graphics engine. Though its kind a sub-par for a device in the mid-range segment, the inclusion of 4GB RAM makes a huge difference to the over-all functioning of the device. Despite clogged with unnecessary apps, the Zenfone 3 Laser was able respond faster, open apps quickly.
We also played some power-intensive games, it fared well.
The Zenfone 3 Laser works smoothly for normal day-to-day activities like internet browsing, SMS chatting, taking calls and limited gaming session. However, upon longer session, the devices tend to get heated.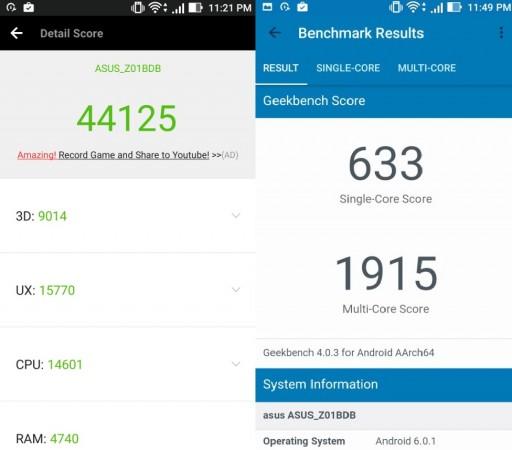 Camera (4.5/5):
Asus Zenfone 3 Laser houses a 13MP primary camera with a Sony IMX214 sensor, f/2.0 aperture, 0.03s laser auto-focus, colour correction RGB sensor, electronic image stabilization (EIS) for blur-free videos and dual-LED flash.
For its price, Asus Zenfone 3 Laser delivers the goods expected from it. We were impressed with device's low-light photo capturing ability especially during the twilight and also the new generation laser autofocus feature also lived up to its reputation.
But the quality of the photo deteriorates during the night session if taken with auto flash. If used on night mode, it only helps to a certain extent that's all.
As far as front camera is concerned, Asus Zenfone 3 can be considered best among the mid-range phones available in the market.
It comes with 8MP shooter with f/2.0 aperture, 89-degree wide angle lens, HDR and low-light selfie mode. Asus' camera apps further enhances the photography user-experience.
Battery (4/5):
Asus houses a 3,000mAh battery, which during the tests fared well. It was able to keep the phone running for a whole under moderate usage, which included internet browsing, watching a couple of short video clipping on YouTube videos, voice-calling and WhatsApp messaging.
However, playing games and using camera, the battery drains bit faster.
User-interface (3.5/5):
Though Asus has managed to improve the visual appeal of the device's exterior, it has failed to clean the user interface. Besides a few useful apps such as RAM cleaner, themes, power saver and camera app, everything else are unnecessary, which a commoner might never use them at all.
Despite so many apps hogging the memory, the Zenfone 3 Laser showed no lags and performed to our expectations thanks to 4GB RAM. Its fingerprint sensor too worked fine with very less false rejection rate.
Verdict (4.1/5):
All-in all,Asus has done commendable job of making the Zenfone 3 Laser look premium, pack really good camera and decent processor to power the phone and yet keeping the cost of device moderately low.
If you are in the market looking for a mid-range phone with good camera and premium looks, Asus Zenfone 3 is a smart buy, you won't regret.