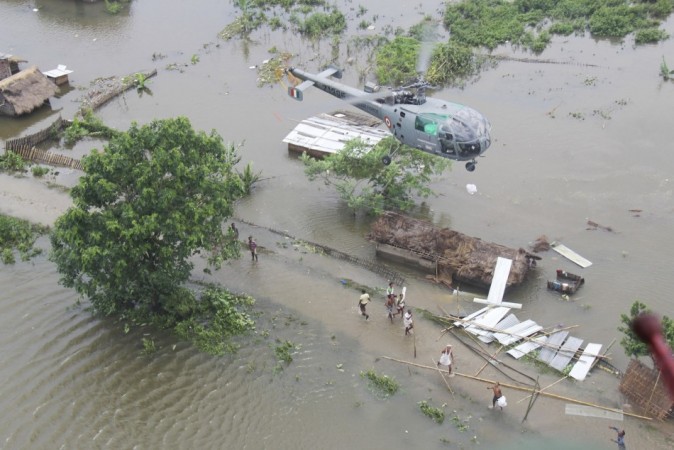 Floodwaters in India's remote north-east state of Assam began receding on Tuesday, thus allowing thousands of hungry and worn out villagers to return to their mud-filled homes from the relief camps.
The monsoon floods that hit Assam over the last week is perhaps the worst disaster to have struck the state in the past decade. Nearly half a million people, who were misplaced from their homes, sought refuge in camps set up in government buildings. At least 95 people were reportedly killed while 14 others are said to be missing.
On Monday, Prime Minister Manmohan Singh and the Congress party-head Sonia Gandhi flew over the affected areas and announced an aid of ₹5 billion from the Prime Minister's Relief Fund.
"People of Assam are facing one of the worst floods in recent times," Manmohan Singh told reporters in Guwahati, Assam's main city.
Government authorities have provided food, medicines and shelter to thousands of homeless villagers and have also arranged for mobile medical teams to prevent the outbreak of any diseases in the flood-hit regions. Officials are now using helicopters and speedboats to deliver food and drinking water to those affected.
The PM has also declared that families of those perished in the floods will each receive a compensation amounting to ₹100,000.
"We are handing out anti-malaria pills and distributing disinfectants," Associated Press quoted army Lt. Col. N.N. Joshi as saying.
With the water levels now receding, officials are trying to discern ways to dispose the rotting remains of cattle in order prevent the spread of diseases.
"Once we complete rescue and relief operations our focus will shift to restoration of damaged caused by floods," Singh said.
According to reports, all 27 districts in Assam have been devastated by the disaster. The floods have also hit the adjoining states of Meghalaya and Arunachal Pradesh, and have raised the water levels above the danger point in the Brahmaputra and Kapili rivers.