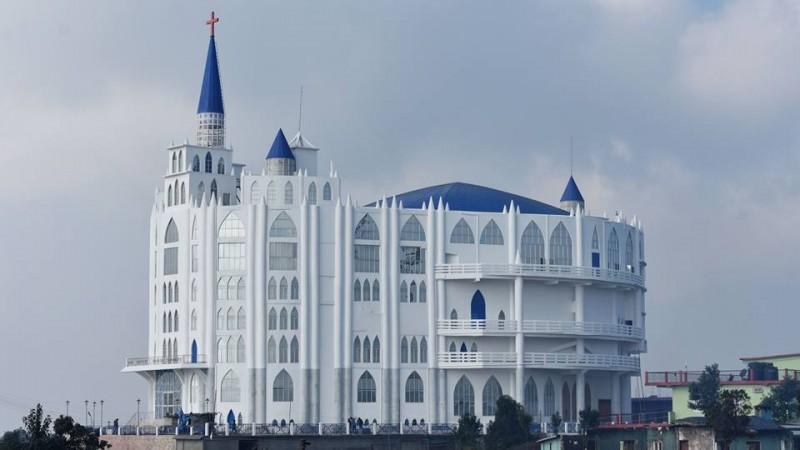 The Sumi Baptist Church Zunheboto (SBCZ) in the northeastern state of Nagaland, India, is finally set for dedication after almost a decade since its construction began. Many members of the church might not have lived long enough to see the completion of their dream house of God but people from near and far are admiring its beauty and literally looking up to the magnificent structure, situated atop the highland in the centre of Zunheboto town.
Believed to be the largest church building in Asia, the Sumi Baptist Church Zunheboto stands tall at 1864.9m above the sea level and measures 23,73,476 Sq.ft in the plinth area. The actual structure measures 203 ft in length, 153 ft in breadth, and 166 ft in height, which is equal to an eight-storey building. It has a seating capacity of 8,500 people and the building also has 27 rooms for the sick, bride and groom dressing, cafeteria, offices, conference, training, baptism pool and several other church activities.
Also read: ISIS claims attack on St. Catherine's monastery in Egypt
It took 10 long years to complete the construction of the majestic church building at a cost of Rs 36 crore (around $5.56 million) which was generated through a donation from the members, in addition to the existing funds of the church.
Now completed, the church building will be dedicated at a grand event on April 22 and Rev. Dr. Solomon Rongpi, the general secretary council of Baptist Churches in North-East India (CBCNEI) Guwahati, will bless it.
Interestingly, it is the only Baptist Church in Zunheboto town which has a population of over 15,000. The need for a bigger church building arose more than a decade ago as the old church, which had a seating capacity of 3,000 people, couldn't accommodate all the church members.
Facts about Asia's largest church
1. Laying of foundation stone: May 7, 2007.
2. Workforce: 2,000
3. Completion date: March 31, 2017
4. Cost: Rs 36 crore (around $5.56 million)
5. Seating capacity: 8,500 people.
6. Height above sea level: 1864.9m above sea level.
7. Location: 26.1° N and 94.52" E.
8. Dimension: Length 203 ft, Breadth 153 ft, Height 166 ft.
9. Total area (plinth): 23,73,476 Sq.ft.
10. The Architect: M/s. Akitektura, Dimapur.
11. The Engineer: M/s. Map Project Services Pvt. Ltd Kolkata.
12. Inauguration: April 22, 2017.