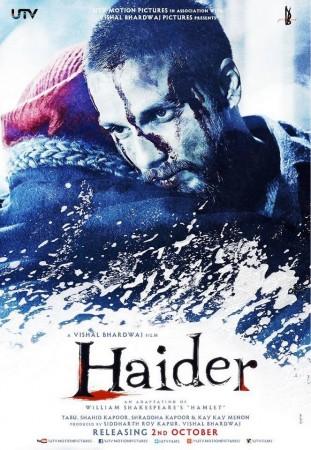 The organisers of the 9th edition of the Asian Film Awards have revealed the list of nominees. Chinese film "The Golden Era" is leading the list with five nominations, including best director and best actress categories. But the film was nominated in the best film category.
Indian movie "Haider" has bagged four nominations, which include best film, Vishal Bhardwaj for best director and Tabu for best supporting actress role categories. Bollywood actress Kalki Koechlin has been nominated in the best actress category for her performance in "Margarita, With A Straw" movie.
"Blind Massage" and Chinese film "Gone With The Bullets" have also bagged four nominations each.
The winners will be revealed on 25 March in Macau's Venetian Theatre. A panel of 14 members headed by the director-producer Mabel Cheung will announce the winner.
Check out the nominations in the major categories below and for complete list click here.
Best film
Black Coal, Thin Ice (China)
Blind Massage (China)
Haider (India)
Hill Of Freedom (South Korea)
Ode To My Father (South Korea)
The Light Shines Only There (Japan)
Best Actress
Bae Doo-na for "A Girl At My Door" (South Korea)
Gong Li for "Coming Home" (China)
Zhao Wei for "Dearest" (Hong Kong, China)
Kaiki Koechlin for "Margarita, With A Straw" (India)
Miyazawa Rie for "Pale Moon" (Japan)
Tang Wei for "The Golden Era" (Hong Kong, China)
Best Actor
Liao Fan for "Black Coal, Thin Ice" (China)
Kase Ryo for "Hill Of Freedom" (South Korea)
Sean Lau Ching-wan for "Overheard 3" (Hong Kong, China)
Ethan Ruan for "Paradise In Service" (Taiwan)
Choi Min-sik for "Roaring Currents" (South Korea)
Satoh Takeru "Rurouni Kenshin: The Legend Ends" (Japan)
Best director
Lou Ye for "Blind Massage" (China)
Tsukamoto Shinya for "Fires On The Plain" (Japan)
Lav Diaz for "From What Is Before" (The Philippines)
Vishal Bhardwaj for "Haider" (India)
Hong Sang-soo for "Hill Of Freedom" (South Korea)
Ann Hui for "The Golden Era" (Hong Kong, China)
Best Debut
DOH Kyung-soo for "Cart" (South Korea)
ZHANG Huiwen for "Coming Home" (Mainland China)
Ivana WONG for "Golden Chickensss" (Hong Kong)
TOSAKA Hiroomi for "Hot Road" (Japan)
ZHAN Huaiyun for "Meeting Dr. Sun" (Taiwan)
Best Supporting Actor
CHO Jin-woong for "A Hard Day" (South Korea)
QIN Hao for "Blind Massage" (Mainland China)
CHEN Jianbin for "Paradise In Service" (Taiwan)
WANG Zhiwen for "The Golden Era" (Hong Kong / China)
ITO Hideaki for "Wood Job!" (Japan)
Best Supporting Actress
HAN Ye-ri for "Haemoo" (South Korea)
Tabu for "Haider" (India)
WAN Qian for "Paradise In Service" (Taiwan)
IKEWAKI Chizuru for "The Light Shines Only There" (Japan)
KUROKI Haru for "The Little House" (Japan)