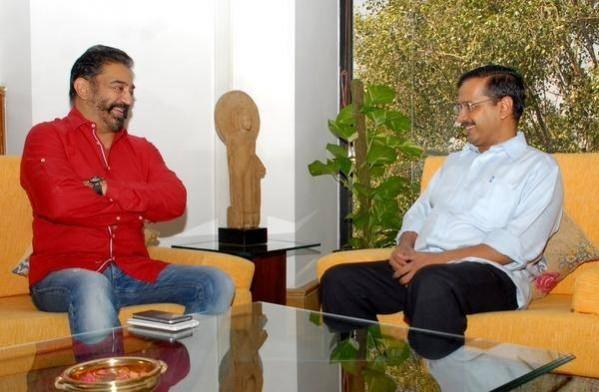 Delhi Chief Minister and Aam Aadmi Party (AAP) national convenor Arvind Kejriwal will be in Chennai on Thursday, September 21, and will reportedly meet Kamal Haasan.
Although the purpose of his visit has not clearly revealed yet, it is political in nature as Kamal Haasan has shown interest to join politics in recent months.
The Times of India has quoted a source as saying that Kamal Haasan wanted to meet the Delhi chief minister and a phone call fixed their meeting.
This will be the actor's second meeting with a politician this month: He paid a visit to Kerala Chief Minister Pinarayi Vijayan at the latter's residence recently.
A source told the New Minute that it is still unclear whether Kamal Haasan is considering joining the AAP.
"That seems far-fetched now. But there will be synergy. We are hoping for a positive announcement. Arvind is going to Chennai only for this meeting, so they do have some plans," the website quoted the source has telling.
Kamal Haasan had met Kejriwal in 2015. They had then reportedly discussed many non-political issues.
The Tamil actor has become politically active following the death of former TN chief minister J Jayalalithaa in December last year. He has over the past few months attacked the Tamil Nadu government at every given opportunity.
Kamal Haasan has denounced the state government claiming that every department in the current government is corrupt. At one stage, he even asked the people to send complaints against corruption to the concerned ministers through email.
However, the 62-year-old has made oblique references to claim that he would not be joining the DMK or the BJP. "A political party is about an ideology. And I don't think my goals in politics can match the ideology of any political party," Quint had quoted Kamal Haasan as saying.
With Kamal Haasan repeatedly making comments on corruption, it looks like the AAP — which came to power in New Delhi with his fight against corruption — could be tailor-made for the Tamil actor.
It might also turn out to be a boon for the AAP, which is looking to gain a strong foothold in South India.