Arsenal's announcement Friday, April 20 that Arsene Wenger would be stepping down as manager at the end of the 2017/18 season has triggered an outpouring of tributes to the Frenchman.
Wenger confirmed that he had arrived at the decision to end his 22-year-long association with the north London side after "careful considerations" and "discussions with the club".
He insisted Friday that he had served the club with "full commitment and integrity". The 68-year-old also urged the fans to back the club in the remainder of the ongoing season.
The French tactician joined Arsenal in October 1996 and is the longest-serving among the current managers in England's top flight club competition. Under Wenger, Arsenal won the league and FA Cup double twice — 1998 and 2002.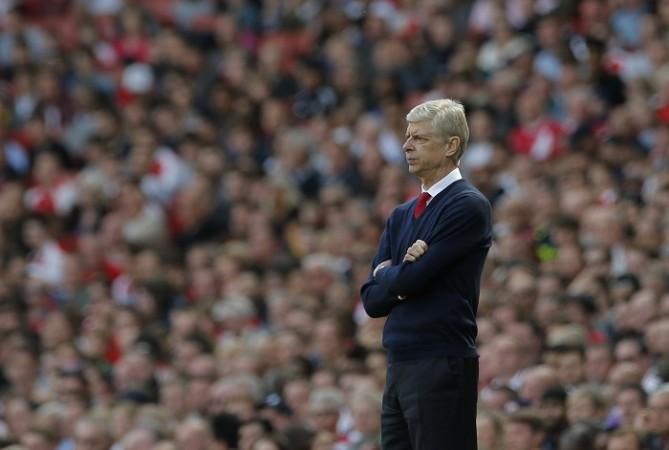 Wenger's highpoint with the north London club came in the 2003/04 campaign when his "Invincibles" remained undefeated en route to Premier League glory. They registered 26 wins and 12 draws in what was a historic season.
However, Wenger was under pressure over the last few years as his last title came more than a decade ago. Arsenal are currently sixth in the table, with 54 points from 33 matches. Notably, the Gunners finished outside the top-four for the first time under Wenger's guidance last season.
Nonetheless, Wenger has an opportunity to finish on a high, if Arsenal win the Europa League. The Gunners have made it to the last four of Europe's second-tier club competition, where they face La Liga outfit Atletico Madrid in the two-legged semi-final.
IBTimes India has compiled a list of reactions to Wenger's decision to step down from his role as Arsenal manager. Check it out below.
Arsene Wenger built the best teams that I played against in English Football .The 98 team was Amazing.The biggest compliment is that he played football that made us change the way we played against them. He now deserves the most incredible send off from all in the coming weeks.

— Gary Neville (@GNev2) April 20, 2018
Most of us wanted change. But deep down we all love that man, and we all know he truly cares about our club. Full houses for the rest of the season. Europa League Winners please. Big Weng ??

— AFCAMDEN (@AFCAMDEN) April 20, 2018
I know I should be happy Arsene Wenger is finally stepping down but I can't say goodbye without thinking of all the good times we had. #Arsenal #WengerOut pic.twitter.com/dgL3BvZULj

— Arash Markazi (@ArashMarkazi) April 20, 2018
The scenes if Arsene Wenger lifts a European trophy in his home country after his final match at Arsenal. #AFC

— John Bennett (@JohnBennettBBC) April 20, 2018
My favourite Arsene Wenger quote:

"I believe the target of anything in life should be to do it so well that it becomes an art."

For a decade, he did that.

— Daniel Storey (@danielstorey85) April 20, 2018
Arsene Wenger deserves an enormous amount of respect. The Premier League will be poorer without him. Au revoir. pic.twitter.com/UdV0veGbA5

— Sam Homewood (@SamHomewood) April 20, 2018
Whatever happened in recent years at #Arsenal - ArseneWenger has been a great manager and mark my word the fans will miss in years to come.

— Mohammed Shafiq (@mshafiquk) April 20, 2018
Even supporters of Arsenal's rivals are emotional about Arsene Wenger's retirement. That's how you should live your life

— Aveek Sen (@aveeksen) April 20, 2018
I was at Arsene Wenger's first press conference at Arsenal in 1996 and have attended more than 1000 since.

He's a great man who deserves a classy send off in the next few weeks, even if he is leaving three years too late #AFC

— Kevin Palmer (@RealKevinPalmer) April 20, 2018
22 years, 10 major trophies and over 800 games. In a social media era where criticism and derision is tossed around like confetti, Arsene Wenger leaves with his head held high as a true Arsenal legend. We won't see one man manage one club for over 2 decades ever again.??

— Jake Humphrey (@mrjakehumphrey) April 20, 2018
Arsene Wenger to step down at the end of the season. Definitely the right move, hopefully we can now win the Europa League to send our legendary boss out on a high.

— Josh Challies (@Challies11) April 20, 2018
Perfect decision made by the club. The fan base can unite together and support the team and the manager in his final stages as manager. #ThankYouArsene

— Connor (@TikiTakaConnor) April 20, 2018
As a kid I used to think that Arsenal is named after Arsene Wenger ?, he was so immersive into the club.

— Uzair Hasan Rizvi (@RizviUzair) April 20, 2018