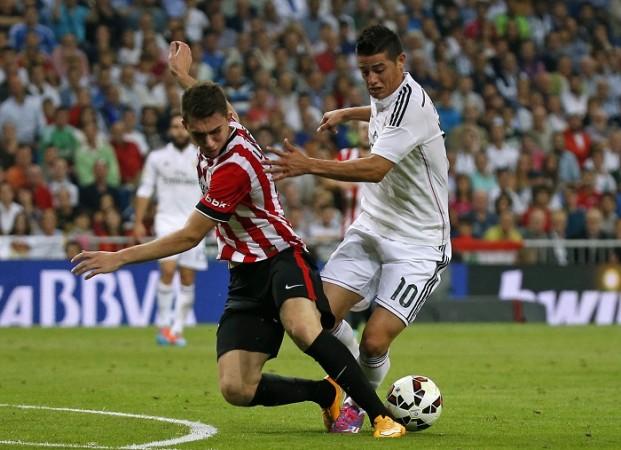 Arsene Wenger is set to make a mega bid to bring in a defender that will not make this Arsenal squad look lighter than a balloon at the back anymore.
Arsenal are in desperate need of reinforcements in defence, considering the fact that they only have two established centre-backs in the squad at the moment, with the third choice being a 19-year-old who was brought in as a back-up right-back, a job he is currently doing due to the long-term injury suffered by Mathieu Debuchy.
Wenger could not quite make that much-needed signing at the back before the closure of the summer transfer window, but the Frenchman is ready to make amends by making a bid for one of the bright young centre-backs in Europe – Athletic Bilbao's Aymeric Laporte.
The 20-year-old Laporte impressed one and all with his performances for Athletic Bilbao last season, performances which piqued the interest of the likes of Barcelona, Manchester United, Bayern Munich and Arsenal.
The Gunners reportedly failed with a bid for Laporte during the summer, with the young Frenchman signing a new contract with Bilbao until 2018. That contract comes with a release clause of £34 million, and Wenger is considering matching the buyout clause in order to push through a move in the January transfer window.
Arsenal's central defence is hanging by a thread at the moment, as an injury, which, unfortunately, seems to be a daily occurrence at the club at the moment, to one of Per Mertesacker or Laurent Koscielny will force Wenger to move Calum Chambers into that position, leaving youngster Hector Bellerin to fill-in at right-back.
With the defensive midfield position also an issue that Wenger needs to sort out during the January transfer window, a bid and a quick signing, be that Laporte or someone else, to bolster the central defence will certainly be welcome at the turn of the year.