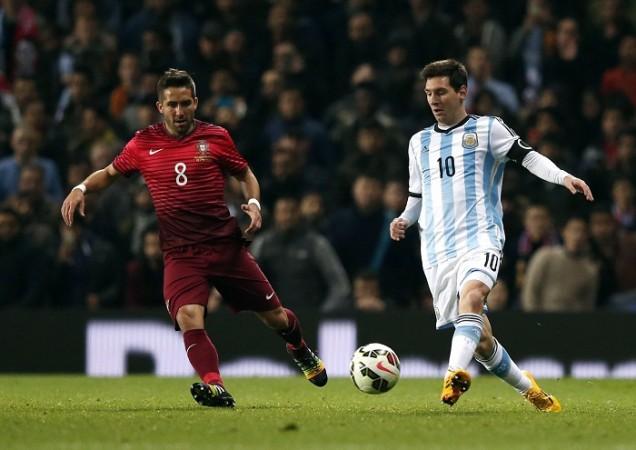 Arsene Wenger might not have too many things to smile about at the moment, but the Arsenal manager might just feel a little better with reports suggesting one of his apparent midfield targets – Joao Moutinho – has handed in a transfer request at Monaco.
Wenger is expected to bring in a defensive midfielder in the January transfer window along with a centre-back, and Arsenal have been linked with several midfielders including William Carvalho, Morgan Schneiderlin and Lars Bender.
Reports a few days ago added Moutinho to that list, with the Portugal international reportedly unsettled at Monaco.
Moutinho signed for Monaco as part of the France club's revolution to become a big name in Europe, with Radamel Falcao and James Rodriguez, to name a few also joining.
However, with the Colombian duo now gone and the purse strings firmly tightened, Moutinho finds himself neither here nor there.
According to the Daily Express, who cite reports in France, Moutinho's patience has run out and he has handed in a transfer request with the 28-year-old looking to leave the club in January.
Arsenal were linked with a £30 million move for Moutinho a few days back, and with the player now reportedly making his intentions clear on leaving, that transfer fee might just come down a little.
However, the big question remains if Moutinho, who was close to moves to Chelsea and Tottenham in the past, is the player that Arsenal need at the moment.
While the midfielder can play in a deep position, he is much more of a playmaker, and what Arsenal really require is a midfielder who can dominate his opponents with a bit of physical presence and by reading to game well, while also showing he is not shy on making a few tackles.
Moutinho, undoubtedly, will be a quality addition, especially with Mikel Arteta and Mathieu Flamini struggling to act as that perfect screen, but Wenger will probably know that signing one of William Carvalho, Lars Bender or Morgan Schneiderlin for the amount that is being quoted will make more sense for Arsenal's balance, which at the moment is heavily tilted on the attacking front.