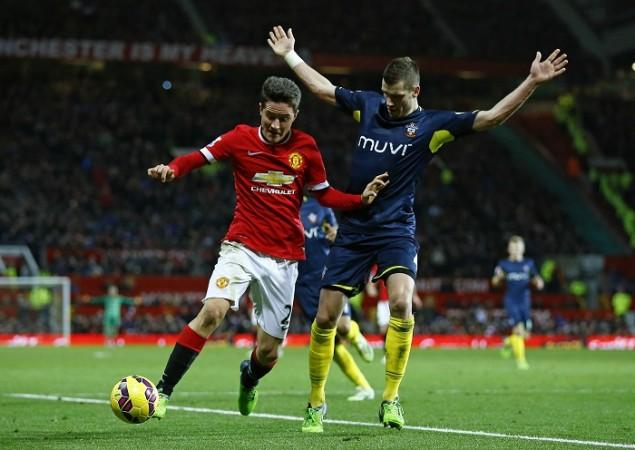 Arsenal have agreed a move to sign Morgan Schneiderlin from Southampton, that is according to of the most elusive and captivating figures in the game – The Secret Footballer.
Schneiderlin has been linked with a move to Arsenal for quite a while, with Tottenham and Manchester United also thought to be interested in signing the highly-coveted France international.
The midfielder huffed and puffed in a bid to force through a move, believed to be Spurs, last summer, but Southampton, after selling several of their star players, held firm and he stayed put.
Schneiderlin has gone on to put in impressive performances for the Saints, who are currently above all of the three clubs, who are looking to make a move for the Frenchman – Manchester United, Arsenal and Tottenham – in the Premier League table.
The 25-year-old recently admitted he does not envisage transferring to a new club in the January transfer window – a window that is extremely difficult for high-profile players to make moves – and it does look like Schneiderlin will remain a Saint until the end of the season.
However, according to The Secret Footballer, the unnamed former/current Premier League/professional footballer, who has written plenty of columns on life in football and a couple of books as well, Arsenal have a deal in place to sign Schneiderlin from Southampton next summer.
"My understanding is that they have an agreement already in place with Schneiderlin," said The Secret Footballer, who has been named as Kevin Davies, Dave Kitson and plenty of others, on Twitter when asked by a fan about what moves Arsenal are making in the transfer window.
"I've been told that Morgan Schneiderlin will sign for Arsenal, but not until the summer transfer window."
If the claim from The Secret Footballer turns out to be true it will be music to the Arsenal supporters' ears, with the fans crying out for a solid central-defensive midfielder for quite a while now.
Schneiderlin is an outstanding player who has plenty of Premier League experience and continues to get better and better. The fact that he is a Frenchman certainly gives Arsenal an upper hand, owing to Arsene Wenger's clout when it comes to signing players from his home country.
Arsenal, though, would ideally want a solid defensive midfielder in place for the second half of the season, especially after it was confirmed Mikel Arteta would miss the bulk of the season after undergoing surgery on his ankle.
Arteta is a highly underrated player in that deep position, with the midfielder probably being missed by Arsenal the most at the moment.
However, a long-term solution was always going to be needed, and signing a proper no-nonsense, yet technically adept, player like Schneiderlin will go a long way in plugging that gap, even if it might only be completed in the summer.