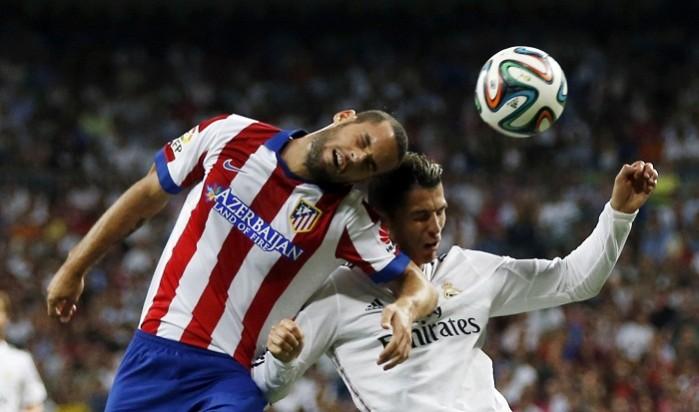 Arsenal's attempt in signing talented Atletico midfielder Mario Suarez might have increased after the La Liga club have acquired the services of the 33-year-old Ruben 'Cani' Gracia on loan from Villareal.
Suarez played a pivotal role for the Spanish side, but has fallen out of favour. With Cani's loan deal, Suarez's move to Arsenal looks more and more likely. But, the player having lost his place to other players has also seen a dip in his performance.
However, Cani's move to Atletico Madrid does not seem to be similar to replacement despite being a short term one with Cani past his prime. He is 33 years old now.
Arsenal could still provide an escape route to the talented Atletico Madrid midfielder, which could be a win-win situation for all the three parties -- Arsenal, Atletico Madrid and Mario Suarez.
The Express reports that the Gunners are looking to bid for Atletico Madrid midfielder to solve their defensive midfield problems.
Arsenal may have two decent holding midfielders in the form of Mathieu Flamini and Mikel Arteta, but the Gunners suffer when these players are hit by injury. The same happened earlier too, which led to Arsene Wenger recalling Francis Coquelin from his loan spell at Charlton.
Another key Gunners midfielder Jack Wilshere can only come back from injury in February.
But, the Spaniard is not the only player that the Gunners have been eyeing, as Portugual's William Carvalho is also on Wenger's radar.
The Portuguese has attracted interest from major English clubs such as Chelsea and Manchester City, so the Gunners need to cough up more money if they want to sign the player.
But if Mario Suarez ticks all the boxes for Arsenal, he could be a perfect addition to Arsenal's squad, as the player could be bought cheap as compared to the Portuguese player.
The Spanish midfielder is said to have been linked with Rafa Benitez's side, Napoli, who are also keen on adding a defensive midfielder in their ranks. The Italian side have been also linked with Liverpool's midfielder, Lucas.
Other teams, such as AC Milan and West Ham, have also shown some interest in signing the Spanish midfielder on loan. But, considering the scenario at Atletico Madrid, the Spaniard could prefer moving to a team that would offer him a permanent deal.
The Gunners manager was also keen on adding a quality holding midfielder in the summer, but his efforts did not materialise, despite trying his best.