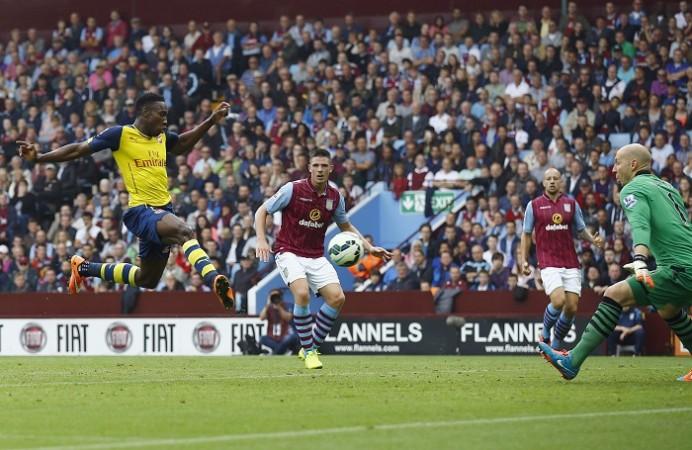 There was a sense of déjà vu prevailing during Arsenal's North London Derby against Tottenham at the weekend – the home side had plenty of the ball (again!), without really creating too many clear-cut chances, while also looking vulnerable on the counter-attack. And, almost expectedly, a mistake is made and Arsenal suddenly find themselves chasing the game.
While Arsene Wenger's men came away with a 1-1 draw against their local rivals thanks to an equaliser from Alex Oxlade-Chamberlain, there was a deep sense of disappointment amongst the home team – it was clear, this was a game which Arsenal should have picked up three points.
One of those players disappointed, definitely with the result, but also with the overall performance, was Danny Welbeck, who shone in the early part of the game, linking up well with the midfielder, and showing that defend-from-the-front aspect which put Spurs in trouble on a couple of occasions, before fading in the second half.
"It could have been better," Welbeck told Arsenal Player. "We really controlled the game, we had a lot more chances and they got one shot in the second half and it went in so we're a bit disappointed with that. It's disappointing to draw the game.
"In the first half I was more of a threat, in the second I didn't really feel like I did as much as I should have. I am a bit disappointed with that and I will work on the training pitch with the rest of the players and hopefully be involved much more throughout our games."
Of course, the game might have fared differently had Wenger not been forced to make two early substitutions in the game due to injuries to captain Mikel Arteta and talisman Aaron Ramsey.
With just one substitution remaining to be made, all Wenger could do was bring on Alexis Sanchez, with the likes of Lukas Podolski and Tomas Rosicky, who would have given the team that extra thrust, left on the bench.
"It is difficult because we set out as a team knowing what we wanted to do and with the injuries coming into play, it changed everything for us and made it difficult," Welbeck added. "We would have preferred to make those substitutions later on in the game."
And how ironic that one of those early substitutions – Mathieu Flamini for Arteta – made the key mistake which led to Tottenham scoring the opening goal.
"We tried to play out from the back and got caught in possession," Welbeck observed. "Credit to them, they counter-attacked from there but it's difficult to take because we were in control of the game. It could have gone better."