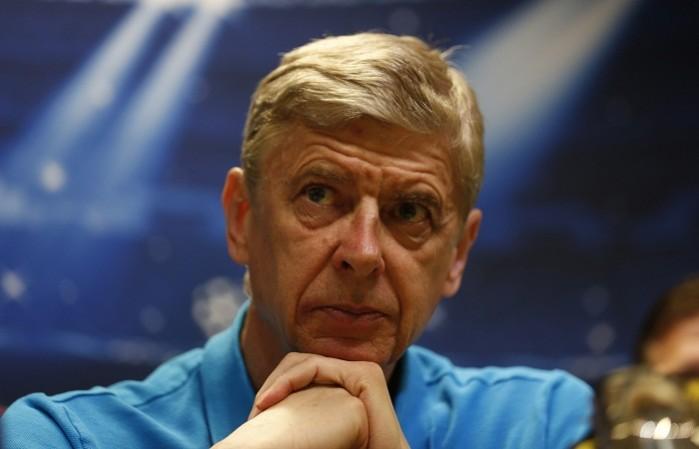 The "Arsenal in crisis" feeling is certainly taking off with Arsene Wenger reportedly holding a meeting with chief executive Iva Gazidis over the team's poor run of form in the past few weeks.
Arsenal can as good as kiss an opportunity to even compete for the English Premier League title this season goodbye, after crashing to their second straight loss, a 2-1 reverse against Manchester United.
The Gunners were beaten by the same scoreline by Swansea in their previous Premier League game, which came on the back of a collapse of huge proportions when they threw away a 3-0 lead to Anderlecht in the Champions League.
With Arsenal's defence looking more fragile than a crate of fine china, and their attack looking far from cohesive either, Wenger finds himself in the spotlight again, and not for the right reasons.
Gazidis met with Wenger at London Colney, not something that usually happens, according to the Daily Star, to discuss the recent slump in form.
The report also suggests majority owner Stan Kroenke aka "Silent Stan" for his refusal to talk to anyone, is a little worried with the recent results, with Arsenal currently lying 15 points behind Premier League leaders Chelsea.
Wenger's next game is a big one in the Champions League against Borussia Dortmund on Wednesday, and even if Arsenal win that particular game their chances of finishing top of Group D will remain pretty slim.
If Arsenal, yet again, fail to finish top of their group, the chances of drawing the likes of Real Madrid, Bayern Munich or Barcelona will increase, and the way the North London side are playing at the moment, there is little chance of them toppling opponents of that quality over two legs.
Arsenal's other main shareholder – Alisher Usmanov – also made his feelings know about his team's poor run, admitting Wenger's powers might just be on the wane.
"Arsene Wenger is one of the greatest coaches not just of European but of world football," said Usmanov.
"But we have a Russian proverb which goes: 'Even an old lady can have a roof falling on her.' Everybody makes mistakes. He can make mistakes and I know as you age that it is more difficult, more challenging to accept one's mistakes. Maybe it's a problem today.
"I like Arsene for his principles, but principles are a sort of restriction. And restrictions are always lost possibilities. That's why sometimes coaches even without principles became the coaches of great teams and some coaches with principles lose because some positions in team are vacant because of ethical, moral or personal views."
Usmanov, who is Arsenal's second largest shareholder, but still remains without a seat on the board, also insists the club have given Wenger plenty of money to spend, but it is the manager who has decided not to go overboard with the cash.
"Does he have money or not? There is officially money in the club," he added. "How does he spend it? This decision investors have left with him.
"I wish them victories, because their victories are the victories of investors, including myself, and of great Arsenal fans, which deserve these victories.
"My opinion -- and I tell it openly -- we need to strengthen every position to play on the level of such teams in UK as Chelsea and Manchester City, in Europe like Real, Barcelona, Bayern Munich, Paris Saint-Germain and other clubs."
Arsenal, even if they are woefully short in defence, do have a squad capable of competing for trophies, with tactics and just plain lack of understanding of the situation hurting them time and again.