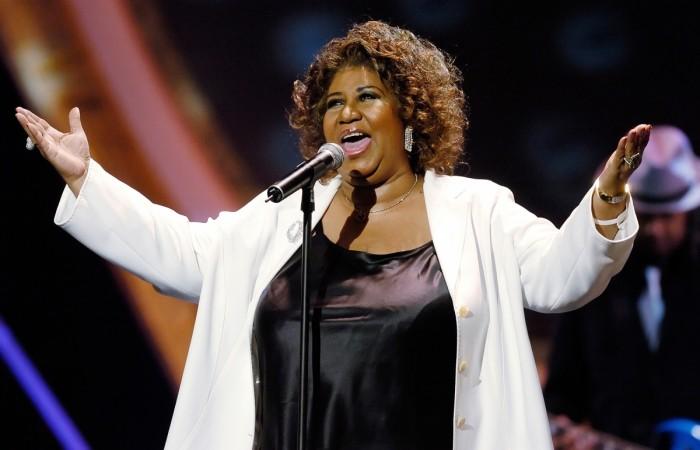 Aretha Franklin, 76, one of the greatest gospel singers in music history, is in a critical condition and is surrounded by family and friends at a hospital in Detroit.
Franklin was diagnosed with cancer in 2010 and since then, she has been battling a number of other health issues. She announced her retirement after her doctor advised rest in February 2017.
Franklin, born in 1942, grew up in a home with exceptionally talented parents. Her mother Barbara Siggers Franklin was a gospel singer and died when Franklin was 10. Her father Reverend Clarence La Vaughan "CL" Franklin was a Baptist preacher and her singing career began at one of his Churches.
1) The singer is a mother of four children
Franklin was 12-years-old when she had her first child Clarence in 1955. At the age of 14, she gave birth to her second son -- Edward. Since she was in pursuit of her music career, her grandmother and sister took turns looking after the singers' children. Her third son -Ted White Jr - was born and Kecalf Cunningham was born in 1970.
2) The gospel singer's career
Franklin's singing career was launched by her father. She was 12 when she started singing hymn, 'Jesus be a fence around me'. After that, her father took her on the road as he went around preaching in churches. After a couple of years, he made her sign a deal with JVB Records with whom she released her first album 'Songs of Faith'. There was no stopping after that.
She went on to break all records with hits like 'Won't be long, I never loved a man (The Way I Love You), Baby I love you, and Jump to it.
3) Franklin's awards
With great music comes greater success. The singer has received over 18 Grammy Awards and is also one of the most successful commercial singers.
4) Personal life
Franklin was married twice. She was first married to Theodore 'Ted' White at the age of 19 in 1961. And after eight years of marriage, the relationship got bitter due to domestic violence and ended in a divorce.
In 1978, she married Glynn Turman, an actor who had three children from his previous marriage. The couple had four years of happy married life until they separated after Turman moved to California. The two still remain very close friends.
5) Best songs
Here are some of her best songs, according to independent -- Respect (1967), Think (1968), Dr Feelgood (Love Is a Serious Business) (1967), I Say a Little Prayer (1968), and Ain't No Way (1968).