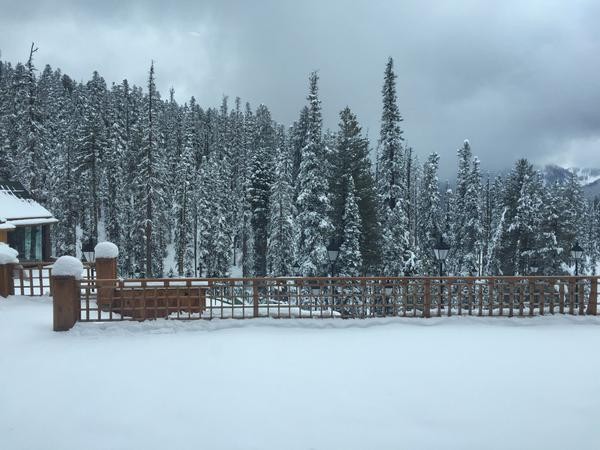 With summer round the corner, the snowfall in Jammu & Kashmir indeed sounds wonderful and romantic, but is it actually as good as the Bollywood memories it stirs up? Just like Khaled Hosseini says, "After all, life is not a Hindi movie."
Read: Heavy snowfall disrupts normal life in Kashmir
Srinagar woke up under a blanket of snow on Wednesday prompting Omar Abdullah, former chief minister of J&K, to tweet this:
1st week of April & the day starts with Srinagar under a blanket of white ❄️ snow/sleet. Saying it's cold is an understatement right now. pic.twitter.com/JGK2lpichS

— Omar Abdullah (@abdullah_omar) April 6, 2017
With Srinagar whitewashed in snow, the mercury has dipped to 4° C and the untimely snowfall has taken a toll on the vegetation.
This weather will have played havoc with our blossom & the famed tulip garden not to mention the last few election meetings for Srinagar. https://t.co/Wh0nUdDmLl

— Omar Abdullah (@abdullah_omar) April 6, 2017
Bad tidings for blooming tulips, apple blossoms
The tulips bloomed in the Indira Gandhi Memorial Tulip Garden, located in the foothills of the Zabarwan hill in Srinagar, are likely to perish if the snowfall continues. The intermittent snowfall may also affect the apple blossoms which might in turn hit the harvest this year.
Schools and colleges closed down
and shooting stones. Schools and colleges have also been closed down.
The waterlogged Srinagar has hampered the campaigning for the upcoming by-elections in Srinagar and Anantnag parliamentary constituencies on April 9 and 12 respectively.
While the sudden and rare change in the April weather has invited an inflow of tourists from other parts of the country, J&K residents are worried about their crops. Many also fear floods. The state's Irrigation & Flood control department is monitoring the situation.
Here's what the ruling PDP's Youth Wing President Waheed Parra posted on his Facebook profile: