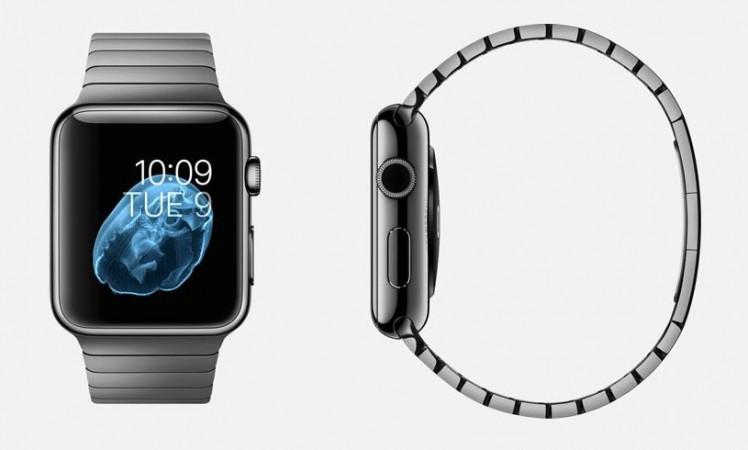 There has been a lot of buzz around the upcoming Apple Watch since its debut in September. Apple's first smartwatch is expected to beef up the competition in the growing wearable category. Details on the product's launch are scarce but now sources have confirmed Apple is preparing the launch its coveted watch in March. Before the actual release, it will conduct extensive training sessions for its store employees next month.
Apple will familiarize its store employees with the latest addition to its product portfolio. Select employees from several Apple Stores in the U.S. will be trained exclusively by Apple at its headquarters in Cupertino, California or in Austin, Texas office. First-hand exposure to Apple Watch will help employees better understand the operations of the new product and help in assisting customers when the smartwatch goes on sale in March.
According to 9to5Mac sources, the training sessions will take place from February 9-16, 2015.
Apple Watch was slated for an early 2015 release and recently senior VP of retail, Angela Ahrendts, said the launch will happen in the spring post the Chinese New Year. The newly leaked information is in line with Apple's release plans.
Apple Watch has been undergoing vigorous testing since its introduction last year. The Cupertino-based tech giant has run the smartwatch through various battery tests as well as improved its inductive charging method, the report added.
There will be several variants of the Apple Watch. The base-model is priced at $349 while rumors indicate a stainless steel and sapphire crystal model to range around $500. The high-end gold edition watch will hit the premium pricing around $4,000 to $5,000.
Apple Watch has earned itself a respectable image even before its full release. T-Mobile CEO John Legere revealed in his 2015 predictions that Apple Watch is going to play a critical role in pushing the niche wearables category to mainstream.