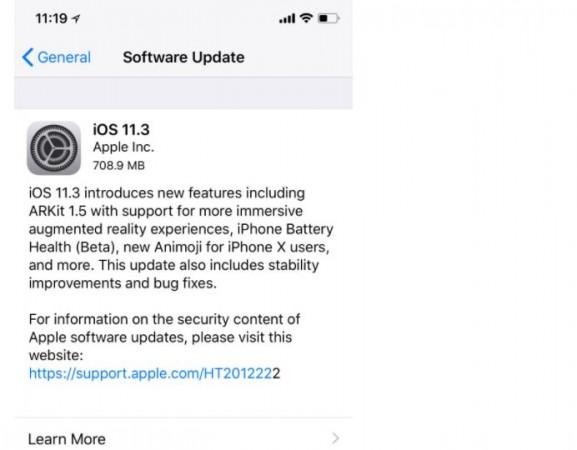 After several weeks of testing, Apple finally released iOS 11.3 update to all eligible iPhones, iPads and iPod Touch series.
The new iOS 11.3 comes in different sizes depending on a particular device but mostly weighs a little over 700MB in size.
Here's why you should update your Apple device with iOS 11.3 right now:
Unlike the previous version, iOS 11.3 is the most eagerly awaited, as Apple has incorporated an important feature battery health (Beta), which recommends the user if the battery needs to be replaced or not. He/she can find it in — Settings -> Battery >> Battery Health (Beta).
Apple iOS 11.3 brings power management feature, an option to device owner to make a decision whether to throttle processor speed to extend battery life or compromise the latter for better performance.This feature can be found in Settings -> Battery and is available for iPhone 6, iPhone 6 Plus, iPhone SE, iPhone 6s, iPhone 6s Plus, iPhone 7 and iPhone 7 Plus.
This feature was specially added by Apple, after the company was severely panned in 2017, for deliberately throttling processor performance in older iPhones, which many viewed it as the company's devious method of making them obsolete and coaxing people to buy new iPhone models.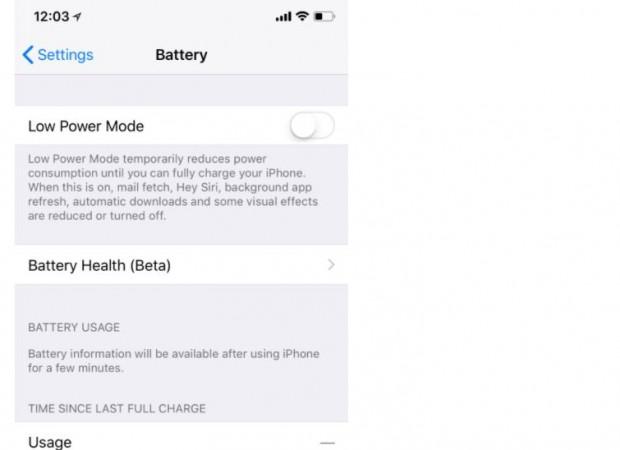 Later in December 2017, Apple came out clean by first apologizing to device owners for not being transparent enough and promised to bring new Battery Health feature and also as a warm gesture offered cell replacement scheme at discounted prices.
Apple iOS 11.3 also brings dedicated business chat for users to communicate directly with businesses right within messages similar to WhatsApp Business app, but more secure. In the beginning, Apple business chat will support select enterprises such as Discover, Hilton, Lowe's and Wells Fargo.
With business chat, Apple claims, it's easy to have a conversation with a service representative, schedule an appointment or make purchases using Apple Pay in the Messages app. Most importantly the app doesn't share the user's contact information with businesses and gives users the ability to stop chatting at any time.
Also, Apple has introduced an updated data and privacy policy that makes it easier than ever for users to understand how their personal data may be used. It has created a new privacy icon and detailed privacy information that will appear whenever Apple asks for access to personal information to enable features, secure Apple services or personalize an iOS experience.
This step is very reassuring by Apple, as it comes close on heels of Facebook data leak scandal, which wouldn't have occurred if the latter had set well-crafted regulations to protect the users' private details.
Another noteworthy aspect of iOS 11.3 is the advanced mobile location (AML) feature, which automatically sends the user's current location when making a call to emergency services in countries where AML is supported.
Apple iOS 11.3 also helps the users view all their health records present in participating hospitals in a single folder, so that he/she can access multiple reports and receive regular notifications for their lab results, medications, conditions and more in one place. Rest assured, your health record is fully safe. The company says that everything will be encrypted and protected by Apple passcode security.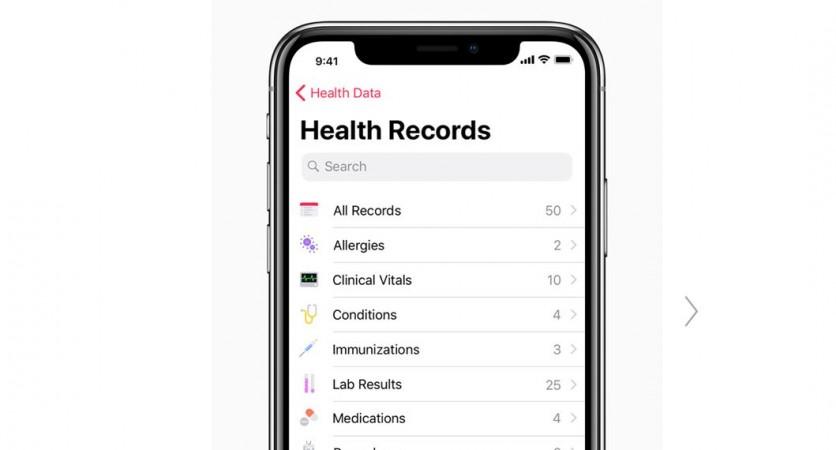 The upcoming iOS 11.3 also brings ARKit 1.5 to make the devices support more immersive Augmented Reality (AR) capabilities and the iPhone X gets a bevy of new funny animojis such as lion, dragon, skull, bear and more, which will bring the total to 16 (including the current characters) and more.
Other features coming in Apple iOS 11.3 include video content support and improved top stories in Apple News. Thanks to the new update, commuters in Beijing and Shanghai can begin using Apple Pay on their iPhone and Apple Watch for an easy, fast and secure ride on metro and bus lines. Further more, Apple TV app, a unified hub for iPhone, iPad and Apple TV users to search movies and TV shows, will now be available in Brazil and Mexico.
Also, Apple added that with iOS 11.3 update, device owners in Brazil will gain Siri support on Apple TV 4K and Apple TV (4th generation), making it possible to search for and access movies, shows, songs, apps and more, using just their voice.
Apple Music will now offer music videos and the iOS 11.3 brings the security upgrade for HomeKit-supported accessories and smart gadgets. It also fixes the nagging bug in iPads, which is used randomly disconnect from Apple's Smart Keyboard due to some Wi-Fi network glitch.
How to install latest iOS v11.3 update on iPhones, iPads and iPod Touch:
Via OTA (Over-The-Air):
1. Settings >> General >> Software update
[Tip: Users' who want to install the update directly on the device via OTA, make sure to clear enough device storage space and also make sure the device has more than 50% battery life, before downloading the new OS firmware]
via iTunes
1. Back up your iPhone or iPad with either iCloud or via iTunes.
2. Launch iTunes on your Mac or PC.
3. Make sure you're on the latest version of iTunes. Go to About and then Check for Updates or visit iTunes.com.
4. Plug in your iPhone, iPad, or iPod touch if it isn't already.
5. Click on iPhone, iPad, or iPod in the top left navigation.
6. Click on the Check for Update button in the first section that contains information about your device and alternately you can click restore instead if you'd like to do a clean wipe with updated software.
7. An update should be recognised, click on Download and Update in the popup menu and agree to any terms or conditions.
8. Unlock your device with your passcode if prompted in order to continue with the upgrade.
Apple devices eligible for iOS 11.3 update:
| | | |
| --- | --- | --- |
| Apple device category | iPhones | iPads |
| Device versions eligible for iOS 11.3 update | iPhone 5S, iPhone 6, iPhone 6 Plus, iPhone 6S and iPhone 6S Plus, iPhone 7, iPhone 7 Plus, iPhone 8, iPhone 8, iPhone 8 Plus and iPhone X | iPad mini (2 Gen), iPad mini (3 Gen), iPad Mini (4 Gen), iPad (5th Gen), iPad Air (1st Gen), iPad Air (2nd Gen), iPad Pro 12.9 (1st Gen), iPad Pro 12.9 (2nd Gen), iPad Pro 10.5 inch (1St Gen), iPad Pro 9.7-inch (1st Gen) |
Note: Apple iPod Touch (6th Generation) is also getting iOS 11.3 update.
Stay tuned. Follow us @IBTimesIN_Tech on Twitter for latest updates on Apple products.