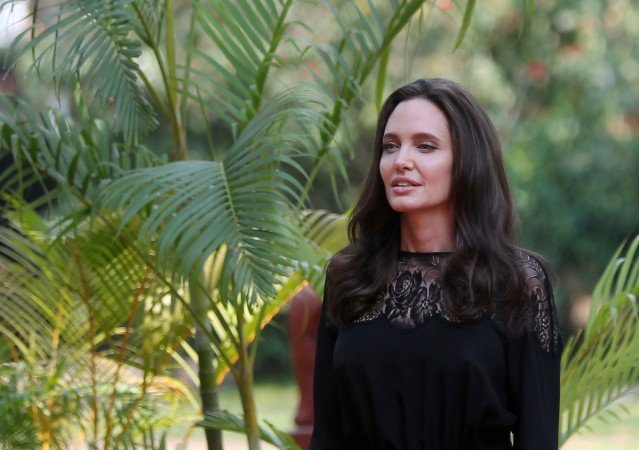 Angelina Jolie on Thursday met Archbishop of Canterbury Justin Welby to talk about sexual violence, and photos of the actress and UNHCR special envoy's interaction with clergy immediately attracted a lot of attention online, but for the wrong reasons.
Also read: Men dumped the stunning Ashley Graham because they thought she was going to be too fat!
Although Jolie was dressed modestly in a long skirt and grey sweater, her nipples were poking through the material, leading many to conclude she had ditched her bra.
Privilege to welcome UNHCR Special Envoy Angelina Jolie. Discussed refugee crisis, South Sudan and prevention of sexual violence in conflict pic.twitter.com/SuM5Ub8cqP

— Justin Welby ن (@JustinWelby) March 16, 2017
The archbishop shared photos of their meeting on Twitter, leading many to poke fun at the actress for not wearing a bra to a talk on sexual violence. "The funny thing is now the pope wants to meet with her," one comment on Daily Mail read.
However, there were others who came to her defence as well. One comment read: "JOLIE IS WEARING A BRA. The nipple saving surgery she had as part of her double mastectomy means her nipples are ALWAYS erect. This ridiculous obsession has been going on since 2013 when she had the surgery."
Although Jolie's humanitarian work gains a lot of attention, she has been in the news for the past few months for her ongoing custody battle with ex Brad Pitt. According to a new HollywoodLife report, Jolie's marriage to Pitt was always strained due to her fear that he would one day leave her for his ex Jennifer Aniston.
"Angelina [Jolie] was never able to get over her obsession with Brad [Pitt] and Jennifer [Aniston]'s relationship," a source told the media outlet. "Even though she had Brad, it was like she was jealous of Jen. She seemed to go out of her way to diss Jen whenever she could which was unnecessary. She always wanted to know what roles Jen was getting and what scripts were being pitched to her. She never wanted Jen to snag a part she may have wanted. Angie knew there was some overlap in the two relationships when it came to Brad's feelings. She knew she stole Brad and always felt a little guilty about that."