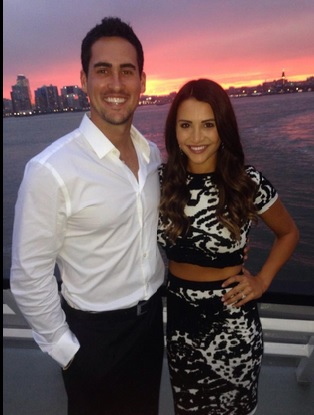 Ending months of speculation of a rift between the two, "Bachelorette" star Andi Dorfman and fiancé Josh Murray confirmed on Thursday that they have called off their engagement.
The announcement of a split comes just days after the couple attended a red carpet event to promote season 19 of "The Bachelor" starring Chris Soules, where they gushed about their relationship.
"In the end it was more of a business partnership than a relationship," a source close to the former couple told Radar Online." Producers were always forcing them to make appearances together and act a certain way and it got old. Going to the premiere together was the last straw. They couldn't pretend anymore."
Sources also indicated that Dorfman being "jealous" and "controlling" were contributing factors. "Andi is the type of girl who needs constant attention from her man," a source told HollywoodLife. "To say she is high maintenance is an understatement. She has a ferocious jealousy streak and even if Josh looked at another girl, she would freak out on him. It just caused a lot of tension," the source added.
Reports of the couple's strained relationship started doing the rounds shortly after they got engaged, with many fans of "Bachelorette" commenting she would have been better off with either Nick Viall or Chris Soules.
Reportedly, Viall has been trying to get in touch with Dorfman ever since filming of the "Bachelorette" ended, as he wanted to give their relationship one more shot. As viewers of the dating reality franchise would recall, Dorfman had a strong chemistry with Viall, but she dumped him during the final rose ceremony saying she did not love him.
Viall later called her out during the After the Final Rose special, asking: "If you weren't in love with me, why did you make love with me?"
As for Soules, Dorfman had to face a lot of Twitter backlash when she eliminated the farmer from Iowa. Soules, too, had professed his love for the former assistant district attorney during season 10 of the "Bachelorette," and she is believed to have chosen Murray over these two contestants because he was a safe choice. Murray is the kind of guy Dorfman has always dated, and she made the same mistake in choosing a similar partner once again.