Anderson Silva, who is widely regarded by many as the greatest mixed martial artist in the world, is threatening to retire from the sport if the UFC does not give him an interim middleweight title fight against Yoel Romero at UFC 212.
Silva was initially set to fight Kelvin Gastelum at UFC 212, but the American was dropped from the fight card after he failed a drug test a few weeks ago. The former UFC middleweight champion has always stood by the UFC including the time he accepted a fight against Daniel Cormier at UFC 200 with only a 48 hour notice. His sponsorship with Nike was also affected after he accepted an exclusive Reebok apparel deal.
Also read: George St-Pierre looking all beefed up for UFC return, says McGregor will lose to Mayweather
Silva got even more frustrated with the UFC after it was announced that Current middleweight champion Michael Bisping was set to defend his title against the returning Georges St-Pierre. Silva mentioned that he was promised a super fight against St-Pierre after he signed his latest contract and described the Bisping- St-Pierre fight as "F---ing bulls---."
"The guys (UFC) no give this fight for me for the interim belt, I'm done. I'll go be with my family. I'm done. This is perfect bullsh-t. I'm tired. I'm so tired. I'm respectful long time. Everything, I never talk about bad situations in UFC. ... I think I'm done. I fight for long time in my life. And I'm tired, bro. I'm so upset," MMA fighting quoted Silva as saying.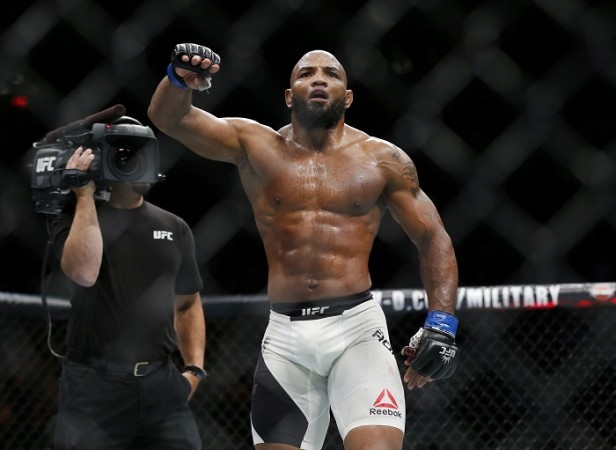 "I have my legacy, I have my story. It's very frustrating; because this is the second time I'm not fighting in my country."
Silva and Romero both want to fight each other at UFC 212 but neither of them want to get inside the octagon if it is not for the interim UFC middleweight title. However, UFC President Dana White said that they don't not want to create an interim middleweight title at this time.
"I'm not going to fight Yoel Romero in Brazil for nothing. Yoel Romero is not going to come to Brazil for nothing. I talked to Yoel's team and we are on the same page. Let's go fight, but for an interim title -- because this makes sense," Silva said.
"Only for the interim championship. It's a good option, you know," Romero said.
Silva, who holds the longest title streak in UFC history, was furious with the fact that the UFC were not giving him the fight he wanted. He also expressed his concern with the fact that if the UFC do not find him an opponent in time, all the money he spent on training would go to fans and he did not want to disappoint his fans.
"I stayed here for a long time for training. This is not my fault for Gastelum to go out of the fight. This is not my problem. My problem is training hard for fight in Brazil for my fans. What happens to my fans now? What happens to the people who paid to see my fight in Brazil. This is the second time this happened. I'm tired of this," Silva said.