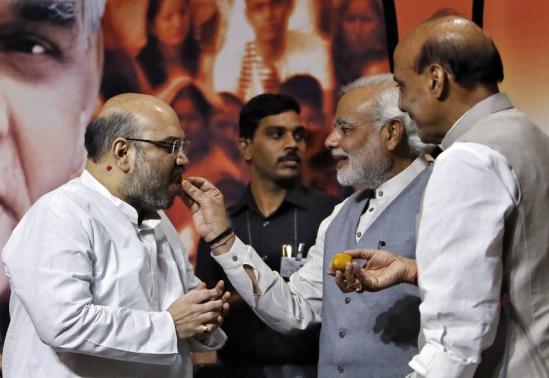 Narendra Modi's blue-eyed boy Amit Shah officially took over the reins of the Bharatiya Janata Party on Saturday at a national council meet, with former party president and current Home Minister Rajnath Singh stating that Shah is best suited for the position.
Shah is said to have been bestowed the highest post in the party for his role in helping BJP win 71 of the 80 Lok Sabha seats in the crucial state of Uttar Pradesh, during the general elections held in April-May. Shah was charged with ensuring that 'Modi wave' swept the state, given that Modi was contesting from Varanasi.
Shah reportedly put in efforts for almost a year to strategize the campaign strategy in a state that was previously not known to be a BJP bastion. Shah is said to have skillfully balanced the candidatures in the caste-ridden state, by fielding 25 members of other backward castes or OBC and 17 from Scheduled Castes for the elections, and then balanced that with 16 Brahmin candidates and 14 Rajputs.
He is said to have engineered the 'Mobile Modi Rath' to take Modi's election message across the state and also delegated RSS pracharaks with the task of convincing UP residents of the UPA government and Samajwadi Party state government's misrule, according to India Today.
Shah expressed concern over the goings-on in Uttar Pradesh at the meet. "The condition of Uttar Pradesh is very worrying. It is indulging in vote bank politics and is implementing law and order accordingly. We have a responsibility to ensure peace in Uttar Pradesh, because they have rewarded us with so many seats in this election," he said.
Shah said his next task would be to ensure that BJP wins in the Assembly elections to be held in four states in the coming months. He is expected to announce a new team of national office bearers in the next couple of days.
The new BJP chief said at the National Council meeting on Saturday that partyworkers were the biggest strength of the ruling party.
"We have to achieve victory in the upcoming assembly elections," he said. Haryana, Maharashtra, Jharkhand and Jammu and Kashmir will be going to polls soon.