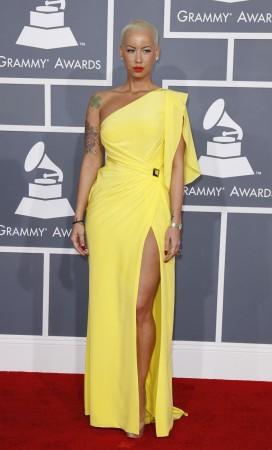 Amber Rose has filed for divorce from rapper Wiz Khalifa. The model cum actress, whose legal name is Amber Levonchuck, has cited "irreconcilable differences" as the reason for separation but reports have claimed that she took the step as she suspects her husband has cheated on her.
Rose has also filed for the custody of their one-year-old son Sebastian while Wiz Khalifa would be given visiting rights.
The exact reason for couple's divorce is not known a report by TMZ said that Rose has been suspecting Khalifa of cheating on her.
"Since the beginning of Wiz's tour in July she strongly suspected he was stepping out. She wanted to join Wiz on the tour but he came up with excuses, the most frequent of which ... she should stay home with their 1-year-old," a source close to Rose told the Website.
However, there is no proof to reports that Khalifa cheated on Rose.
Meanwhile, it is being said that Rose has got closer to Nick Canon during the family crisis. She recently gushed about the "America's Got Talent" host and has apparently approached him for a movie.
"Nick! Look! I would really really like to have a part in this movie, if you could write me in somehow or just give me a role' and that's exactly what he did," a source qouted her as saying according to Daily Mail. "So, it was just really cool. Me and Nick are good friends. Just being on set with all of those comedians was just hilarious. We laughed until we cried every day."
Sources said that Canon and Rose are spending a lot of time together and that their friendship could take a new turn.
On the other hand, Cannon has recently stepped out of his marriage from Mariah Carey with whom he has two kids. He announced the separation saying that he and Carey were living apart.
However, Rose had nothing to do with Carey and Cannon's split, according to TMZ.