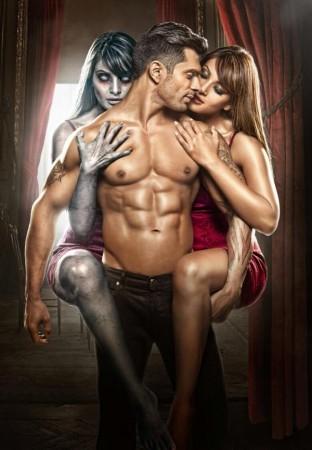 Bhushan Patel's horror movie "Alone", which stars Bipasha Basu and Karan Singh Grover in the lead roles, has received mixed reviews from the viewers.
"Alone" is a horror drama film, which is also very erotic. It is the remake of a Thai movie of the same name. Bhushan Patel, of the "Ragini MMS 2" fame, adopted the story from the Thai movie and made some changes to suit the taste of the Hindi audience. He has also borrowed some scenes from a few Hollywood movies.
The movie revolves around the story of conjoined twins, named Anjana and Sanjana. Sanjana falls in love with a guy called Kabir, who forces the sisters to get separated through an operation. During the surgery, Anjana dies and her spirit returns to torment her sister. What happens next will form the crux of the story.
Some people who have already seen the flick say that Bipasha Basu and Karan Singh Grover's captivating performances and their sizzling chemistry are the main highlisghts of the movie. Meanwhile, others say that they like the idea of a horror story being coupled with lovemaking scenes and sensual songs. Ankit Tiwari and Mithoon provided the background score for "Alone".
Many movie buffs took to Twitter to discuss about the film. Here are the live updates of the movie's reviews by viewers.
Aparna Mudi @AparnaMudi
Based on the 2007 Thai horror flick of the same name, Alone has Bipasha play a double role. Bipasha exemplifies boldness in horror flicks. Although it seems nothing new in Alone. Karan Singh Grover as Kabir looks quite good in the movie. He and Bipasha share a good chemistry. As is usual in most Indian horror films quite a few scenes are borrowed from here and there. The songs of Alone are nothing to write home about. One wonders why they were needed in the movie at all. Karan may have been a television superstar but Alone is not a film that shows off his talent too well. The special effects in Alone manage to scare you a little bit. But there is hardly anything more to it. A sharp twist as the mystery behind Bipasha's characters Anjana and sanjana is revealed. The supporting actors have done a good enough job but the film leaves you asking for much more.
IBNLive Movies @IBNLiveMovies
The first scene can freak you out. Beware! #Alone No doubt #Alone songs are mesmerising. There are some scenes that are too scary in #Alone. #Alone is an adaptation of a Thai movie with the same name. It's interval and so far the movie manages to hold your attention. The second half begins with a series of love making scenes. ( wonder if it was required?). katra katra video from #Alone is high on sex quotient and too sensuous. Bipasha Basu and Karan Singh Grover's chemistry is too hot to handle.#Alone Why is that everything is so predictable in Bollywood horror movies? Karan Singh Grover has this pronunciation issue with rista/rhista, saadi/shadi in #Alone. Funny:p #Alone has a sad ending. #BipashaBasu owns the movie. She makes your haunting experience slightly better with her acting and beauty.#Alone #Alone is a treat for all Bipasha Basu lovers.
ASR BABY @RahulDhaked_
#ALONE first half is chootiya , second half is thoda Bhootiya . Bt both half slow . Its totally time waste movie . 1.5/5''
Momin Ali Munshi ‏@mominalimunshi
@Iamksgofficial watched #Alone yesterday at a premiere in #Pakistan. Loved the film!!! Kickass!!! But my fav song Katra was censored here :/
Amna❤️ @xamtxlovesxyoux
Reasons to watch #Alone: ksgs body, ksgs smile, ksg lipsyching, & ksgs emotional scenes #karansinghgrover
Urvi Parikh ‏@filmykiida 3m3 minutes ago
Watched #Alone first day first show and though the theatre was full @bipsluvurself & @Iamksgofficial spooked me! :/
HBD Sidツ | ALONE @Nick_Ksg · 11m 11 minutes ago
I am On The Way Back To Home Now After Watching @AloneHorrorFilm Still cant Get Over From The HANGOVER Of #Alone @Iamksgofficial