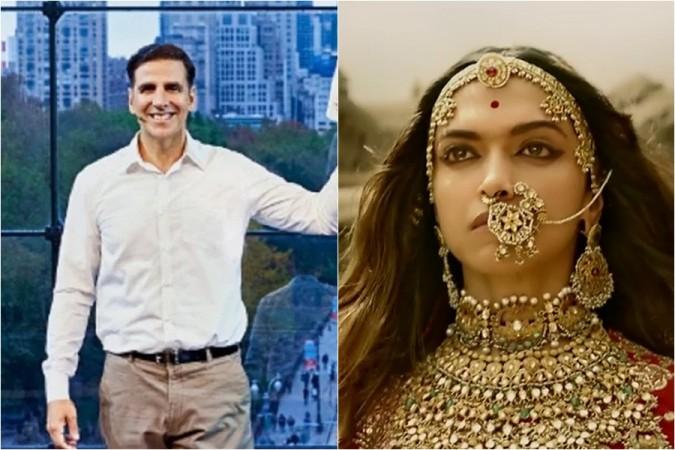 The release of Sanjay Leela Bhansali's Padmaavat is just a few days away, but none of the star cast is seen going out to promote it. On the other side, Akshay Kumar, whose PadMan is releasing on the same day, has been aggressively promoting his film.
It appears that the makers of Padmaavat have deliberately been keeping the star cast, which includes Deepika Padukone, Ranveer Singh and Shahid Kapoor, away from the media.
It has been reported that the makers of the magnum opus want to avoid any controversy resulting from the statements made by the stars to mediapersons.
"The makers want to keep promotional work minimal to avoid controversy. Also, the cast members are busy with other commitments," Mid-Day quoted a source as saying.
Although Padmaavat is already a much-hyped film for all the controversies surrounding it, a clash with PadMan is not something to be taken lightly. In this case, it is a big risk for the makers to not promote Padmaavat when promotions of PadMan are underway on an almost everyday basis.
Padmaavat has been in the news for all the wrong reasons. People from the Rajput community have been protesting against its release, alleging that the film has objectionable scenes that would show the character of Rani Padmini in poor light.
After a lot of hullaballoo, the censor board only recently cleared the film with a few changes, including a change in the title of the film, which was earlier titled Padmavati.
However, things are still not normal as protests against its release have not ceased. States like Gujarat, Rajasthan and Madhya Pradesh — all BJP-ruled states — have even banned its release citing the law-and-order situation as the reason. Haryana, another state ruled by the saffron party, joined the bandwagon on Tuesday.
Although director Bhansali has repeatedly clarified that there is no objectionable scene in the film, the protestors are not ready to accept his clarification. Protests continue to happen, and more number of states have been putting a ban on the release of Padmaavat.
Nonetheless, the craze around Padmaavat is certainly huge, and it is being expected that the film will outshine PadMan at the box office. But considering the protests and bans with regard to its release, the possibility of the tables being turned cannot be ruled out. Both Padmaavat and PadMan are slated to be released on January 25.