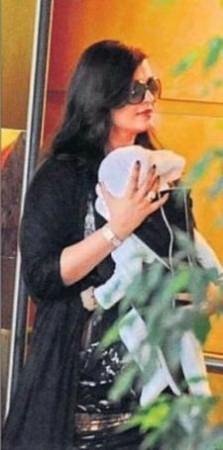 Eight months into the birth of Aaradhya Bachchan, the media continues to remain in frenzied state over every detail that would emerge of the star child. Now according to the latest buzz, the infant recently had her ears pierced.
With the Bachchan clan having a worldwide fan base, people are eagerly hoping to get a glimpse of the former Miss World's daughter. Being the overprotective parents that they are, Aishwarya and Abhishek along with his parents remained intent on not showing the newest addition of their family to the world.
The family's secrecy has inevitably led to more curiosity about how Aradhya actually looks like, which grandmother Jaya Bachchan divulged tit bits of information on several occasions.
News of baby Aaradhya having her ears pierced was revealed again by her grandmother, who during a film premiere in Delhi was heard telling actress Nandita Das that the little angle has had her ears adorned with tiny earrings.
Earlier in June, Jaya revealed in an interview with a radio channel a lot of interesting things about her granddaughter's eyes and her looks.
During the show she told the listeners that she often teased Aishwarya by calling her a nurse to the eight-month-old. She also said that Aaradhya got her looks from both her parents.
"Aaradhya looks like a bit of Aishwarya and a bit of Abhishek... She's a tall girl," Jaya said.
"Sometimes I tease Aishwarya and I say well Aaradhya is a very lucky girl because can you imagine having a nurse like Miss World Aishwarya!" she added.
She also praised Aish for the way she took care of the child, but also said that her daughter-in-law can come down to being overcautious.
"I would also like her (Ash) to start going out but she is absolutely, totally hands down and doesn't depend on anybody which I think is great," Jaya said.