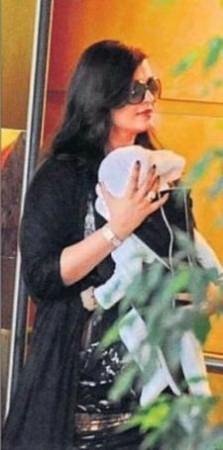 When Aaradhya Bachchan was born, the whole world was eager to catch a glimpse of her but the Bachchans were too protective. They refused to show the new member of the family to the world.
However, people who happen to see the baby started describing her look and it turned into a hot topic on social media.
A photographer from a news channel managed to capture the little angel recently.
The first photo of the toddler shows her looking at the camera but it does not show her full face. The baby's two light eyebrows, left eye, her forehead and dark hair could be seen in the photos, which became a sensation in the social networking sites.
Even though her full face is not captured fans started giving their opinion about whom they think that the baby looks like.
With a shade little browner than Aishwarya, most fans think that the baby looks more like her father Abhishek Bachchan then her mother.
Earlier, a fan, Anisah Hussain, spotted Ash with her bundle of joy in London, and got a chance look at Ash's baby.
Hussain later tweeted, "yeah i saw her lol she is really cute, she has pretty eyes and eyelashes! shes a bit browner than aishwarya but very cute!"
Recently, even Jaya Bachchan revealed the looks of her angelic granddaughter.
"Aaradhya looks like a bit of Aishwarya and a bit of Abhishek... She's a tall girl," Jaya Bachchan had said in a recent interview, swiftly gushing that Aaradhya is "beautiful, always smiling... is now trying to crawl," she said.
Aishwarya gave birth to her first child on Nov. 16, 2011, and everyone's attention turned towards the "junior Miss World." Fans of the Bachchan were eager to see the daughter of the beautiful Bollywood actress. And few days later, a morphed photograph of the actress resting on the bed with a baby sleeping in her arms surfaced on the micro-blogging site Facebook.
But actor and grandpa, Amitabh Bachchan denied that any photo of the mother and daughter had been made public.