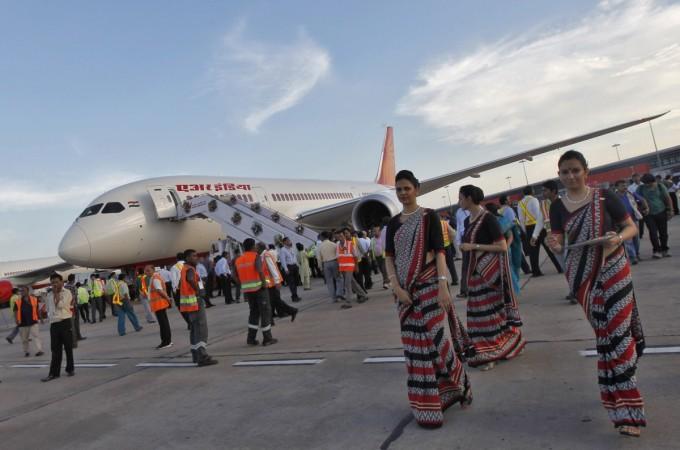 Air India has been making news on a regular basis over the government's plan to privatize the ailing company. However, the carrier has once again garnered attention after an air hostess accused the airline pilot of molesting her on the Ahmedabad-Mumbai flight Friday, May 4.
The pilot and the air hostess were reportedly involved in a fight mid-air, after which he allegedly molested her. The air hostess then complained about the incident to senior officials and also lodged a police complaint against the pilot.
"A scuffle broke out between the complainant (the air hostess) and the accused (the pilot) on board an Air India flight from Ahmedabad to Mumbai on May 4," an unnamed police official told ANI.
"Shortly after the flight landed in Mumbai, the woman approached the Sahar police station in Mumbai and lodged a case against the pilot," the official added.
After the air hostess complained about the matter, the police registered a case against the accused under section 354 - assault or criminal force to woman with intent to outrage her modesty - of the Indian Penal Code.
Air India too is aware of the incident and is conducting a probe into the same. However, it refused to comment on the matter and said that it couldn't talk about it as the investigation was yet to be completed.
"We will extend all co-operation to facilitate the process of investigation," Air India said in a statement," the national carrier added.
The incident comes about a month after an Air India cabin supervisor is said to have slapped a flight attendant on board a Delhi-Frankfurt flight. Flight AI 121 took off from the Indira Gandhi International Airport in Delhi at around 2.20 pm March 17. After being airborne for about an hour, the cabin supervisor and the flight attendant had an argument over a non-vegetarian meal served to a vegetarian passenger.
"A flight attendant mistakenly served a business-class passenger non-vegetarian meal instead of a vegetarian one. The passenger, who was seated on 1D, saw it was the wrong meal and pointed it out to the cabin supervisor who happened to be around," a source told the Times of India.
The supervisor then spoke to the attendant about the error and the latter apologized for it and replaced the meal. However, the supervisor is said to have lashed out at the attendant and slapped her.
"It was a tight slap right across her face. The business-class passengers would have heard it," the source added. However, the flight attendant maintained her cool and carried on with her work.
She is later said to have filed a complaint with the department head.